North Slope Ride
Seasonal use only (October 15 - April 15)!
Starting in the Davidson River Campground, this classic loop starts with a fairly steep climb up from the river. The climb features some log steps and technical sections. Beyond, the trail traverses a nice long sidehill section that gets flowy in places, neat bridges, and then a technical and fast downhill stretch. To top it off, the trail is surrounded by nice scenery. This ride can easily be combined with Sycamore Cove and other trails across the street for a longer trip. These are a must if you are staying at the the Davidson River campground!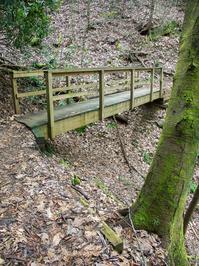 At A Glance

4.9 mi round-trip
Difficulty Rating: 6.45


Tread Condition: Some Obstacles


Climb: Hilly


Climb Total: 600 ft
Configuration: Singletrack loop with access via a paved road
Starting Point: Davidson River Campground, Art Loeb Trailhead Parking Area

Trails Used: North Slope
Directions
From Asheville, take I-240 west to I-26 east to exit 40 for the Asheville Airport/NC Hwy. 280. Turn right onto NC 280; follow this 4-lane highway for 16 miles toward Brevard. At the intersection with US highways 276 and 64, turn right onto US 276 west (there are signs for Pisgah National Forest). Go 1.3 miles on 276, past the big stone entrance gate. Turn left at the Davidson River Campground entrance. Park in the Art Loeb trailhead parking area, immediately on the left after turning toward the campground.
Details
Ride Description
To start the ride, head across the bridge over the Davidson River and into the Davidson River Campground. You'll want to follow the main, paved road to the right. Ride past the pay station and pass the Sycamore and White Oak loops. The parking area for the amphitheater will be on the left. The North Slope trail (#359) starts in the back of this parking area, and you can use it to bypass the campground roads on a scenic trail.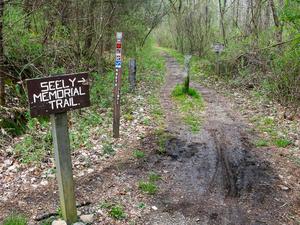 The graveled trail crosses a couple of wooden footbridges before passing through the amphitheater itself, and heading up into the woods. It then travels through the open woods at a slightly higher elevation above the campground, at the base of North Slope Ridge itself. The trail follows some old roadbeds on mostly doubletrack. There are a few intersections; signs are posted at each one. To finish up the campground bypass section, the trail descends a bit to connect to a wet, rocky old roadbed; turn left.
The old road follows the deep, clear Davidson River upstream. This river is a trout fisherman's paradise, and often you'll see them wading in the water, casting their flies. The trail veers left in a former hemlock grove, then starts ascending the ridge on a sidehill path. This starts out as a steep, fairly technical climb. As you go up the ridge, you'll have to contend with some wet, slippery log steps and waterbars in the trail. The trail is heavily eroded and rocky in spots, too.
The trail then then curves left and climbs into a cove, where the steepness moderates considerably. It crosses the stream that carved out the cove on a culvert, and begins following it uphill on the right side, more steeply again. This cove used to be dark and shady, filled with young hemlocks. Now those are all dead; this provides for much more open viewing of the surroundings but unfortunately the dead trees will be falling down onto the trail for years to come.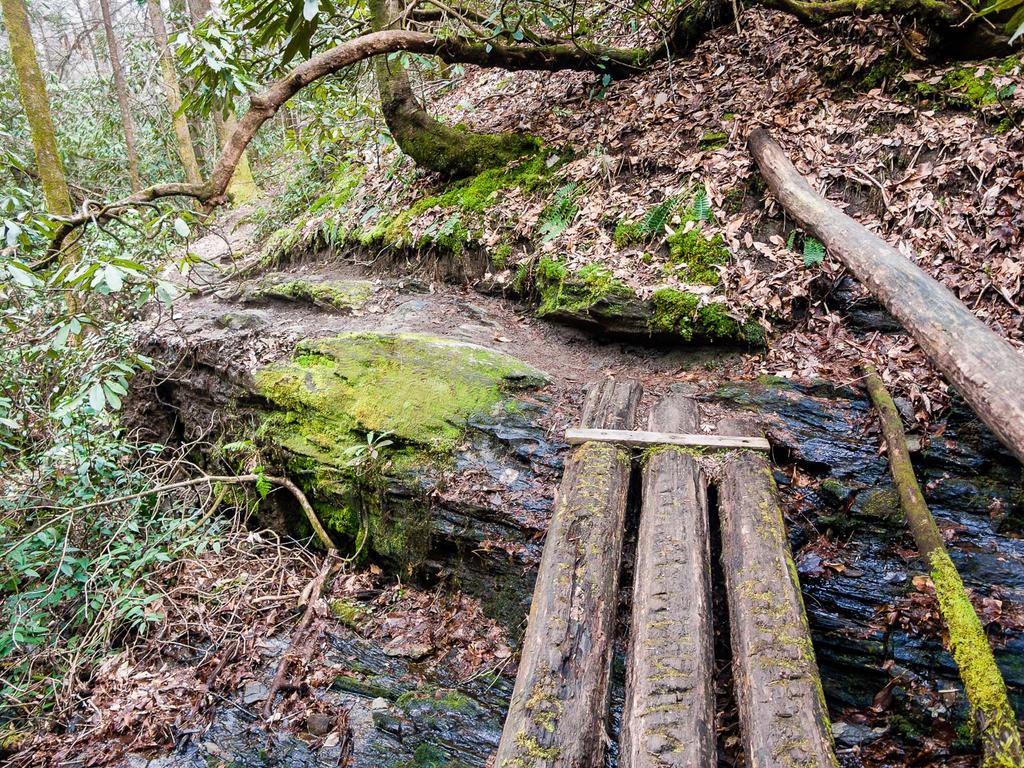 An intersection with the Art Loeb Connector trail (#359A), which leads up to the Art Loeb trail (hiking only), marks the top of the climb. Turn left here, descend a bit, and cross the stream. The trail gets much narrower from here on out, as it winds along the contours of the steep sided, scenic North Slope Ridge. It sticks to an old roadbed for a little bit, and there are some great banked turns as you dip into small coves and cruise around small spur ridges.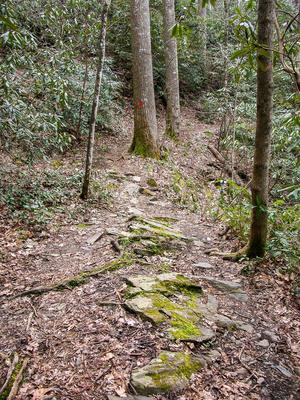 The trail goes through some long, enclosed rhododendron tunnels, adding to the excitement as you pick up some speed in places. In other places it travels through open woods, with precipitous drop-offs on the left. Some spots are pretty technical and sketchy to try and ride; off-camber rocks and roots threaten to slide you off the mountain if you're not careful (especially when wet). At one point, after very wet weather, you may see a tiny waterfall trickling over a bluff above you on the left.
Before long the trail starts decidedly downhill. You'll crosses over some very neat bridges spanning deep ravines - several of which are hike-a-bikes in my book. (And if you're thinking about emailing me saying that you cleared them all - pics or didn't happen!)
The trail veers left again down an even steeper section before joining back with the lower part of the loop. The trail will shoot you back off the ridge into the amphitheater after an exhilarating descent.
Ready for more? The Sycamore Cove ride starts across the street! Reset your odometer and continue on to the Sycamore Cove ride.
All Photos from This Ride
Ride Landmarks
| Mile | Directions |
| --- | --- |
| Start | Head into the Davidson River Campground on the main road, turn left at the parking area for the Amphitheater onto the North Slope tr. |
| 0.4 | Amphitheater. Ride through it and turn right just beyond, staying on North Slope tr. |
| 1.0 | Gate; turn left. |
| 1.3 | End of campground bypass. Turn left onto gravel goad (still North Slope tr.). |
| 1.6 | North Slope trail veers left, steeply uphill. Follow it. |
| 2.5 | Intersection with North Slope connector tr. Turn left, cross stream. |
| 4.3 | Intersection, roadbed and faint trail go right. Bear left, steeply downhill. |
| 4.4 | Amphitheater. |
| 4.5 | Amphitheater parking area. |
| 4.9 | Finish; Art Loeb Trailhead parking area. |
Map
Green highlight indicates the route to follow within the trail network for this ride.
Tip: Printing this map? You can pan and zoom the map as desired before printing to show the area you need.
Map Information
Download GPS Data
Click on a route, trail, or point on the map and select the GPS Data tab to download its data.
Data Formats
KML (Google Earth)
KML is the main file type used by Google Earth. If you have Google Earth installed, clicking the KML link should open the trail or point directly in Google Earth for viewing. This is the native file format used by Google Earth, but many other map applications can use and understand KML as well, so if you're not sure which one to download, KML is a good bet.
GPX
The GPX format stands for GPS Exchange - a free, open, XML format for exchanging GPS and map data. GPX is compatible with Google Earth, many other mapping programs, and most GPS devices (such as Garmin). Load the file directly into your GPS to help find your way on your next trip!
GeoJSON
GeoJSON is a newer, lightweight data exchange format which can be used to quickly share map data and may have a smaller size than KML or GPX. Many professional mapping and GIS applications support the GeoJSON format.
About the Map
Copyright
Base Layers
Base layers provided by OpenStreetMap, the US Geological Survey, the US Forest Service, and NC OneMap. Base layer images are subject to the respective copyright policies of their owners. Base layers may not be available at all times due to system maintenance or outages.
WNCOutdoors Base Layer
The WNCOutdoors Base layer is provided by WNCOutdoors.info. It is licensed by Creative Commons Attribution 3.0.
Trail and Marker Overlays
Trail layers and downloadable data are all original works created by WNCOutdoors with guidance from a variety of sources, including ensembles of our own GPS tracks, user contributed GPS tracks, official maps and GIS data from government agencies, and field observations. WNCOutdoors data is made freely available under the Open Database License - you are free to copy and use it for any purpose under the terms of that license (summary).
Tips
Hover over a trail to see it highlighted. Helps to see start and end points for an individual trail.
Scroll and zoom the map before printing, and that view will persist into the printed image.
Click a trail for more details and to download it individually.