Farlow Gap Trail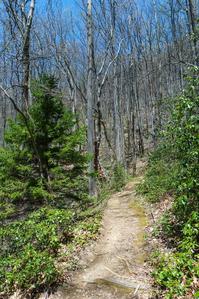 At A Glance



3.3 mi one-way
Difficulty Rating: 3.3


Steepness: Climbs Steeply


Tread Condition: Moderately Rough


Blaze Color: Blue
Trail Number: 106

Description
Typically ridden downhill, this trail is a beloved Pisgah classic. It starts with a few short twists and turns through the high, cool ridge-top forest in a generally northerly direction. The trail then becomes a legendarily steep descent with a distinct turn to the east as you drop into a cove and negotiate a constant barrage of roots, rock gardens, boulder drops, ruts, and a small tributary stream crossing. You will lose nearly 1000 ft of altitude by the time you cross Shuck Ridge Creek above a nice 25 ft waterfall just over a mile from the trail's start at Farlow Gap.
The forest is a beautiful upland and cove mixed hardwood forest with an understory lush with rhododendron, mountain laurel, and doghobble in places, though it might be a bit hard to notice. The trail may be an old logging or mining road as mica mine once existed near the east turn and stream crossing.
After the crossing of Shuck Ridge Creek - a tricky one in its own right - the trail mellows some and climbs a bit around Shuck Ridge. It picks up an old logging railroad grade and begins a shallow descent which will continue for most of the rest of the way to the trail's end. Daniel Ridge Creek presents another challenging crossing in a forest of mostly oaks, but a slowly growing population of Red Spruce and shrinking population of Hemlock and lots of wildflowers.
A couple of smaller tributary crossings and rock gardens lead to some faster, straighter sections of the trail around Fork River Ridge before it gets wet again in places as it descends into the beautiful Right Fork cove hardwood forest. You'll cross a wet-weather tributary stream above a small waterfall and then begin a series of 5 switchbacks, with steep stair-step, rock-armored descents inside a couple of them. A crossing of Right Fork through mossy, toddler-sized boulders amongst deep, clear-water pools (you might get wet on this one - it's tricky) before passing an angled rock slab and reaching the junction of Daniel Ridge Loop trail marks the grand finale.
You'll still have at least 400+ ft of descent left on Daniel Ridge, depending on which direction you choose.
Intersecting Trails
This trail is located in the Davidson River area. For a list of all the trails in that area, see the Davidson River trails list page.
All Photos from the Trail
GPS Map
Download GPS Data
Click routes, trails, or points on the map to download them (on the GPS Data tab).
Trail Segments
Trails are often made up of several connecting paths which may have different characteristics, allowed uses, and seasons. This trail is divided into multiple segments as follows:
Farlow Gap - Daniel Ridge to Shuck Ridge Falls
Allowed Uses: Hiking, Mountain Biking
Length: 2.28 mi
Farlow Gap - Shuck Ridge Falls to Gap
Allowed Uses: Hiking, Mountain Biking
Length: 1.05 mi
Total Calculated Length: 3.33 mi
This value is derived from our underlying map data, and it may not match officially published information.
Feedback
Ratings
Average Rating: 4.0 (rated 1 times)
Rate It Now:
Comments