Mountain Biking in Panthertown Valley
Overview
The Panthertown Valley is one of those unique places that are well revered by many different groups of outdoor enthusiasts: hikers, photographers, equestrians, waterfall seekers, ecologists, and of course mountain bikers find it to be one of the foremost parcels of land in the Southern Appalachian mountains. The valley contains a network of mountain biking trails that travel to a variety of popular destinations within this 6700 acre tract of high-elevation Forest Service land.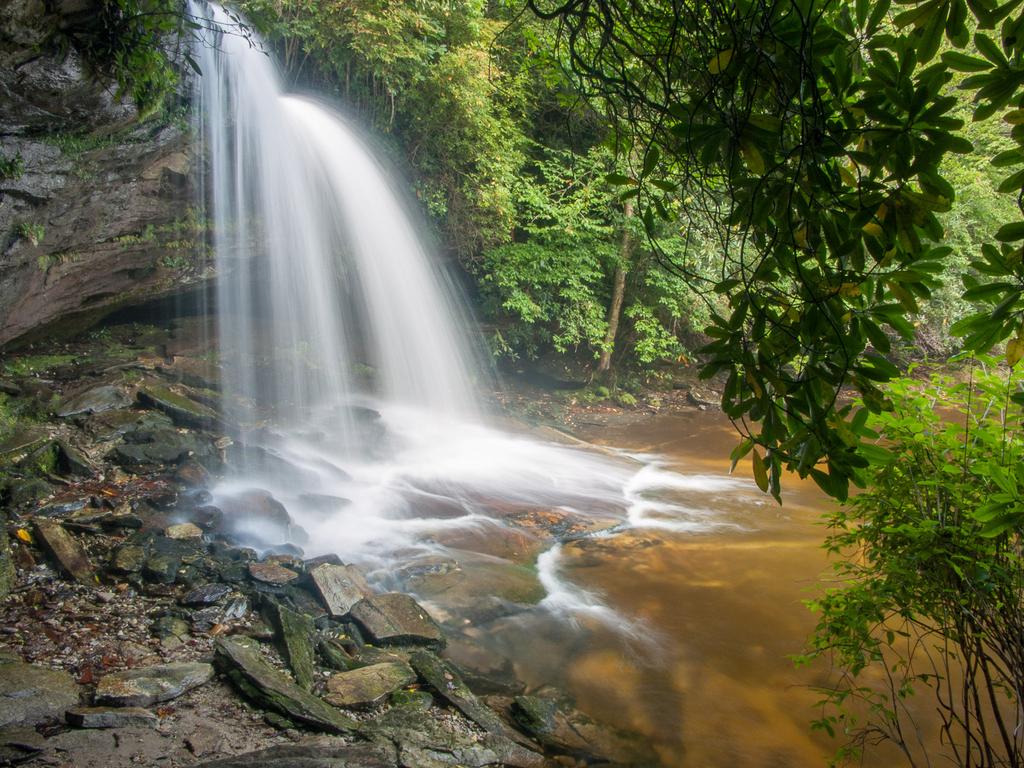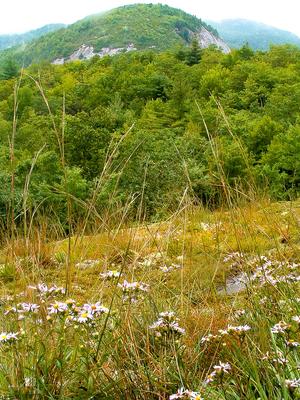 At least 8 major waterfalls and countless smaller ones lie along the area's streams. You'll find rides that take you to cliff-top views of the surrounding mountains, or fast sweeps along rolling gravel roads. Throw in some technical sections of singletrack and you've got the makings of a great trip.
The Valley
Greenland Creek and Panthertown Creek are the area's main waterways, which join to form the Tuckaseegee river. It flows out of the area through gorges with colorful names such as "Devil's Elbow" and (on another fork) "Bonas Defeat". In contrast with the typical "V" shaped valleys of these mountains, the Panthertown area (generally south of Flatrock Mountain and north of Hogback Mountain) is actually composed of several finger-like valleys that are nearly level at the bottom, flanked on three sides by sheer slopes and granite domes.
In those valleys, streams are slow and lazy, with some areas that look more like they belong down on the coastal plain rather than at 3600' elevation in the mountains. Rare, high-altitude mountain bogs lie along the streams in places, where fallen leaves steep in the water for days before the it finally trickles into the streams, staining the otherwise crystal-clear pools like tea. Rare plants grow both in the bogs and on top of the granite domes - environmental extremes, to say the least.
Mountain Biking Trails
Nearly 30 miles of trails branches off from the area's old main roads, 21 of which are open to bikes. And the roads are becoming fun single- and double-track in many places. Shorter and longer loop options are available from either parking area. A few of the more popular destinations within the valley (such as Greenland Creek, Schoolhouse, Granny Burrell, and Wilderness Falls) are accessible by short sections of hiking-only trails, but are worth the diversion.
The Panthertown Valley trail links the Salt Rock parking area to the Cold Mountain parking area along old roads. A portion of it is closed to bikes, but you can bypass that section via the North Road trail (and a short section of Power Line Road trail). It's doubletrack becoming singletrack in places, with a few technical spots. Power Line Road continues as a long high-clearance vehicle maintenance route to the National Forest boundary north of the valley.
The Blackrock trail is a fantastic ridge-top singletrack route starting at the Salt Rock parking area and connecting to Power Line Road. Riders can make it into a loop with North Road and the Panthertown Valley trails. Side trips to Schoolhouse Falls and Frolictown Falls would spice up the ride a bit.
From the Cold Mountain parking area, Mac's Gap trail passes near Greenland Creek Falls and then winds its way up into the more remote section of the valley. It's the best option for a longer, more secluded, backcountry trip before connecting back to the Panthertown Valley trail at North Road, which of course makes it a good loop option. Stops at Granny Burrell and Schoolhouse Falls would be highlights of this trip.
Also from the Cold Mountain parking area, the Devil's Elbow and Riding Ford trails can be combined with Power Line Road and Panthertown Valley trails to make a nice loop on the north side of the valley. This brings you to within a short distance of Jawbone and Riding Ford Falls on the Tuckaseegee River, and involves one fairly deep river crossing without a bridge.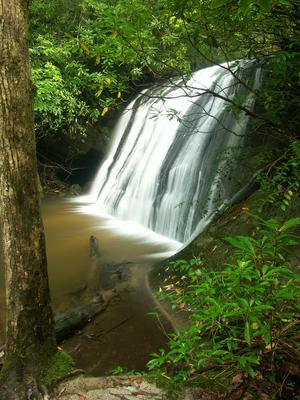 The Forest Service has recently completed a trail renaming and inventory project. Signage is going up throughout the area and good maps are now available. Lots of trail maintenance has been done recently as well, meaning the trail network is now quite accessible.
This is just an overview of the trails in the Panthertown Valley area. For all the details on each individual trail, head over to the Panthertown Valley trails page.
Directions
To the East Entrance (Cold Mountain Gap)
From Asheville:
Take I-240 West to I-26 East to the Asheville Airport, exit 40. Turn right onto NC 280; follow this for 16 miles to Brevard. At the intersection with US 64/276, continue straight onto this dual highway. In downtown Breavard, US 276 heads right; stay straight on US 64. US 64 bears right after passing through brevard. Follow US 64 for about 15 miles (it becomes very curvy) to the intersection with NC 281; turn right. See below.
From Highlands:
Follow US 64 East to Cashiers. 13 miles past the stoplight in Cashiers, just past the Lake Toxaway dam, turn left on NC 281. See below.
(From above) Once you are on NC 281, go 0.8 miles and turn left on Cold Mountain Road (the fire station is on the right). Proceed just under 6 miles up Cold Mountain Road; the road turns to gravel. At a sharp left turn, a sign will indicate the Panthertown parking is just ahead. It is 0.1 mile from the sharp left turn to a gravel road on the right signed for the parking area; the road is about 0.1 mile long and the parking area is just a wide spot at the end of the road.
To the West Entrance (Salt Rock)
From Asheville:
See above directions to NC 281, except continue past 281 on US 64 for 8 miles. Turn right on Cedar Creek Road, go 2.3 miles, then turn right on Breedlove Road. The parking area is at the end of the road in just under 4 miles. On my last visit, there were major mud holes and rocks on the last part of this road and a high-clearance or four-wheel drive vehicle may be necessary.
From Highlands:
Take US 64 East to Cashiers. 2 miles past the stoplight, turn left on Cedar Creek Road. Go 2.3 miles and turn right on Breedlove Road. The parking area is at the end of the road in just under 4 miles. On my last visit, there were major mud holes and rocks on the last part of this road and a high-clearance or four-wheel drive vehicle may be necessary.