Mountain Biking Dupont State Recreational Forest
Overview
Located southeast of Brevard in the Blue Ridge Mountains, the 10,400 acre Dupont State Recreational Forest (DSF/DSRF) offers mountain bikers nearly 100 miles of varied trails.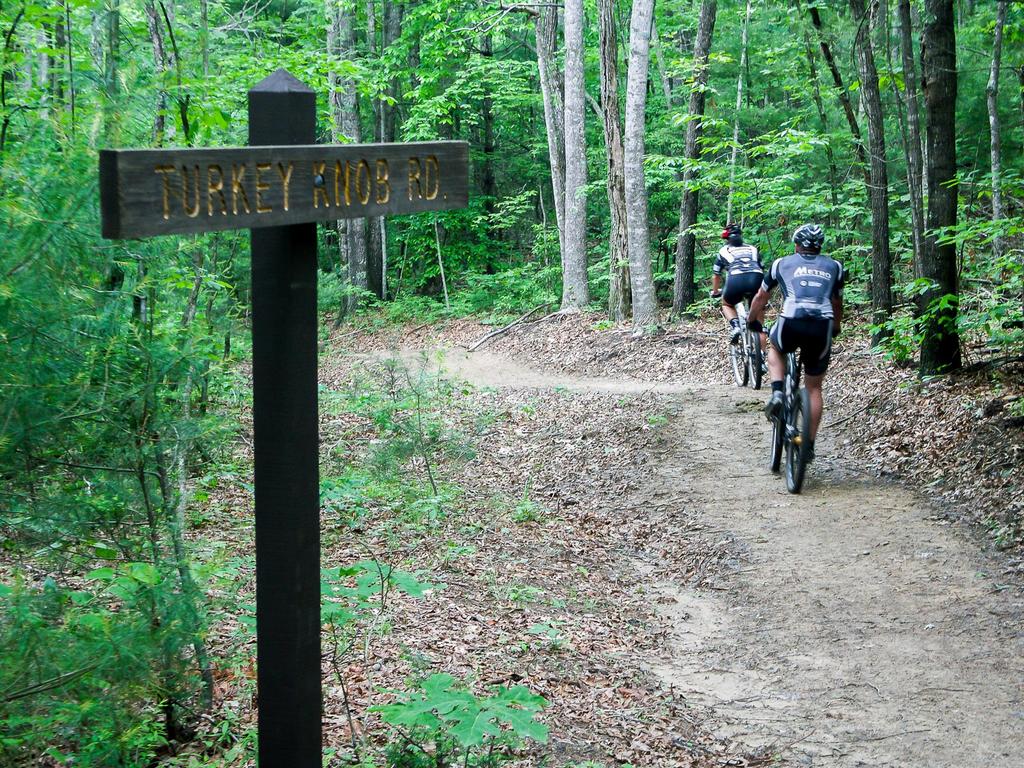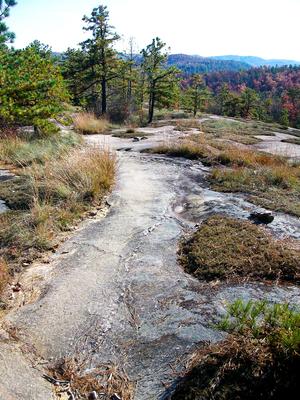 While some of the trails here are pretty typical for the region, a few others provide an experience not commonly found in the southern Appalachians: slickrock!
Vaguely resembling the famous trails at Moab, Utah, riders can travel over large, solid granite domes interspersed with scrubby pine trees.
But unlike Moab, connecting trails lead through dense forests to four spectacular waterfalls along the Little River, plus two other waterfalls on tributaries. Trails here are almost all multi-use (biking, hiking, and equestrian) with good signage at all intersections.
There are five main parking areas at DSRF. Most have portable toilet facilities and an information board with rules and regulations, events, and a good map. However, we recommend also carrying a map yourself, because there are a lot of trails intersections in DSRF's dense trail network. This makes for countless options when planning a ride, but it can make getting lost a possibility as well.
When the rain comes down (and around here it does that a lot), riding in the nearby Pisgah National Forest can be next to impossible on wet trails, which become long mud pits. That's not as big of an issue in Dupont. That's not to say that there's no mud on trails in Dupont, but for several reasons, it's less prevalent: most of the trails have rocky or solid rock surfaces, and the soil tends to be very sandy and quick to drain. Here's an example of a that:
If this doesn't make you want to ride here, I don't know what will! Video by SirBikes.
Furthermore, many of Dupont's top attractions can be reached by well-drained, graded gravel roads. So if you're visiting the area for a short time and are forced to ride during or right after a rain, this is a good place to go. Try the Cedar Rock/Burnt Mountain loop for a great example of quick-drying trails.
Special Considerations
Originally just a regular State Forest, DuPont earned the "Recreational" part of its name in 2011 when a bill was passed emphasizing management of the area's recreational aspects, including trails. Due to the immense popularity of the area as well as the need to protect its unique scenery and ecology, there are some important things to keep in mind when riding in DuPont: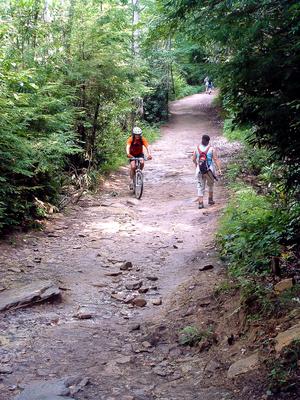 Waterfalls: Be very careful near waterfalls! Climbing on rocks around the falls is prohibited, as several people are injured or killed at the area's waterfalls every single year due to unsafe actions such as this. Seriously, folks!
Granite Domes: When traveling on granite, watch closely for blazes painted on the rocks and rock cairns (small piles of rocks) to mark the trail. Avoid stepping on moss and fragile vegetation growing between the rock. The moss will die wherever a shoe treads on it, and the growing conditions are hard enough up there without human intervention.
Multi-Use Trails: Ride only on trails with the bike symbol posted at the beginning. Bikes are prohibited on trails where the bike symbol is crossed out.
Parking: Do not block gates when you park.
Posted Areas: Obey all posted signs including property boundaries. There is private property all around the forest, and some located right in the middle of it.
Hours of Operation: DuPont State Recreational Forest is open only during the posted hours of 5 a.m. to 10 p.m. Being in the forest without a permit outside posted hours may result in a citation. There is no camping in DuPont State Recreational Forest.
Hunting Season: Wear bright colors during hunting season - hunting is allowed in the forest.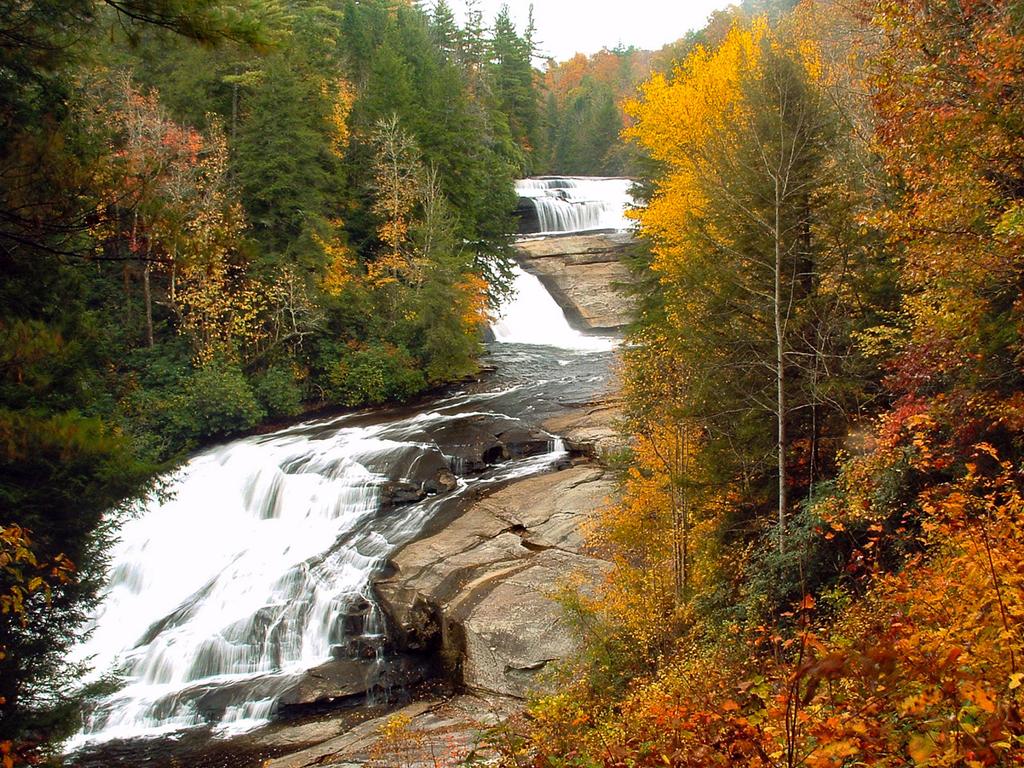 Dupont State Recreational Forest News
Galax Trail Closed (as of August 2010)
The Galax trail, which was built to make a multi-use connection between the Hooker Falls parking area with Triple and High Falls, has been closed permanently due to erosion. This is disappointing, since the trail was used to teach and exemplify "sustainable" trail building techniques, and its construction was even led by the IMBA Trail Care Crew soon after the waterfall area was opened to the public. But it simply couldn't stand up to the heavy traffic it received (especially horses).
Furthermore, it was an important link mountain bikers used to avoid a long circumnavigation to get to the rest of the trails from the Hooker Falls Parking (Hooker Ridge Road → Holly Road → Lake Imaging Road → Buck Forest Road). There was talk of plans to build a connector trail from the Hooker falls parking area up to the Sheep Mountain trail, which would alleviate this, but until then I'd recommend parking at the Lake Imaging, High Falls, Guion Farm, Fawn Lake, or Corn Mill Shoals parking areas to ride instead. The Hooker Falls parking area is extremely popular with hikers and overflowing much of the time anyway.
Conservation Road Permanently Reopened (as of March 2008)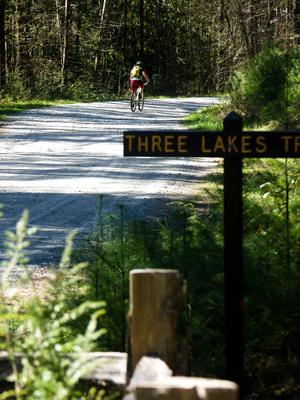 Conservation Road below the Lake Julia Dam is now permanently open and part of the State forest land, which is one of the few routes connecting the South side of Dupont State Forest with the North side. You can now easily visit attractions like High Falls, Bridal Veil Falls, and Lake Juilia all in one trip, without having to drive from one side of the forest to the other! Thanks to DuPont Corporation for donating the land to the N.C. Forest Service, which was needed to make this happen.
For more information, see this article on BlueRidgeNow.com.
Innovative Trail Repairs Fix Erosion, and Make For Some Great Riding!
Dupont State Forest's trails have received tons of public support in the form of maintenance and repair, thanks partly to their notoriety. But part of the love has come strictly due to need. Many of DSF's trails follow old roads or ATV trails that were never designed to be stable, erosion-resistant (sustainable) trails. Volunteers in cooperation with Trail Dynamics have made great strides toward making DSF's trails less likely to erode - and consequently, much more fun to ride! For some great examples, check out the Cedar Rock trail (for rock armoring), the lower Airstrip trail (a highly recommended new trail), the Laurel Ridge trail (which was recently re-routed), and Corn Mill Shoals trail (part of which has been re-routed). You will not be disappointed!
For more information on other activities at DSF, including maps, recent news and information on volunteer opportunities, visit the Friends of DuPont Forest's web site at DupontForest.com. Also, pick up their good topographic map of DSF before your ride. These can be found at several local bike shops, and a portion of sales goes to support Friends of Dupont State Forest - a non-profit working hard to support recreation and conservation in Dupont.
Directions
There are several parking areas at DuPont State Forest, and the way to get to them varies quite a bit since it's a large forest. The one you will want to use depends on which trails you want to ride. We recommend that mountain bikers park in the Lake Imaging, Buck Forest, Guion Farm, Corn Mill Shoals, or Fawn Lake parking areas. (Hooker Falls parking is usually overflowing on weekends anyway). The following directions all start from Asheville; see the maps to get directions from your location.
To the NC 280/US 64/US 276 Intersection:
From downtown (Map Point A), take I-240 west to I-26 east. Go about 12 miles and take Exit 40 for the Asheville Airport/NC Hwy. 280. Turn right toward Brevard, and go south on 280 (a 4-lane highway) for 16 miles to the big intersection with US Hwy. 64/276. Directions below continue from this intersection.
North Side Parking Areas
Lake Imaging Parking Area:
From the intersection above, turn left on US 64 East and drive 3.7 miles. Turn right on Crab Creek Road. Drive 4.3 miles and turn right on Dupont Road. Go 2.7 miles to the parking area on the left. This parking area receives high horse traffic, but is open to hikers and mountain bikers as well.
Hooker Falls Parking Area (Map Point B):
Go 0.4 miles past the Lake Imaging parking area (above); the parking area is at the bottom of the hill on the right, just before the bridge over the Little River. This parking area mainly serves hikers; mountain bikers will need to connect to Lake Imaging road (via Holly Rd.) or Staton Road (not recommended) from here. If this parking area is full, don't park alongside Staton Road or you risk getting a ticket. Keep going to the Buck Forest parking area or go back to the Lake Imaging parking area instead.
Buck Forest Parking Area (Map Point C):
Continue past the Hooker Falls parking area (above) about 1 mile to this parking area on the left. This is a larger area and serves as the "main" entrance to the forest; there are restrooms and a visitor center here. It receives high hiker traffic, but is the easiest route to High Falls, Bridal Veil Falls, and several of the forests's lakes.
Guion Farm Parking Area (Map Point D):
From the intersection above, turn left on US 64 East and drive 3.7 miles. Turn right on Crab Creek Road. Drive 4.3 miles and turn right on Dupont Road. Go 0.7 miles and turn left onto Sky Valley Road. The parking area is on the right after 1.4 miles. It is large and receives lots of horse traffic.
South Side Parking Areas
From the intersection above, continue straight on the 4-lane highway about 3.5 miles to downtown Brevard. Turn turn left on US 276 (Main St.). Go just under 11 miles on 276 and turn left on Cascade Lake Road, at the Cedar Mountain Fire Department building (with the red metal roof).
Corn Mill Shoals Parking Area (Map Point B):
After you turn onto Cascade Lake Road, the parking area is about two miles on the left, lined with huge boulders and with an information board in the back of the lot. The Corn Mill Shoals Road trail starts across the road from the parking lot.
Fawn Lake Parking Area (Map Point C):
After you turn onto Cascade Lake Road, pass the fire station and make an immediate right onto Reasonover Road. Follow Reasonover for about 2.5 miles to the parking area entrance on the left.
Places to Stay
Campgrounds
Public camping is not available within Dupont State Forest itself. Please visit one of the recommended private campgrounds below.
Black Forest Family Camping Resort
This campground is located 4 miles from the trailhead at the Dupont State Forest, making it the closest place to DSF to camp. Tent sites as well as RV sites with hookups are available and it gets rave reviews from visitors each year.
http://www.blackforestcampground.com
Lodging
Big Branch Cabins
Experience the best of a Blue Ridge Mountain getaway in beautiful Brevard, North Carolina! Enjoy our charming mountain cabins and our 12 private, wooded acres, bordered by thousands of acres of forestry land. You'll be just a short distance from Dupont State Forest, Pisgah National Forest, Gorges State Park, and Nantahala National Forest including the spectacular Whitewater Falls, highest in the Eastern US. You can hike the Big Branch trail to stream, or enjoy nature in the surrounding thousands of acres of public forest lands. Our two-bedroom cabins are decorated with unique antiques & include a fully functional kitchen, AC, TV/DVD, bed linens/towels, covered porches, outdoor grills, washer/dryer, and a picnic area.
http://www.bigbranchcabins.com/
Hampton Inn Brevard
Fall from your cloud nine bed to the trail when you stay with us at the Hampton Inn Brevard. We are conveniently located at the gateway to the Pisgah National forest where you can actually ride straight from your room to the trail. The hotel is bike friendly and host to numerous cycling groups, races and training programs throughout the year. We also offer a large meeting room for events and can also assist with your group tours.
http://www.hamptoninnbrevard.com
Serenade Cove
After wearing out the tread, you'll need a good bed! Rustic elegance abounds in this recently renovated cabin on 22 private acres. Just a 10 minute drive from Dupont State Forest and a 12 minute drive from the entrance to Pisgah National Forest, this home has a fully equipped kitchen, an open living/dining room with gas-log fireplace and hardwood floors throughout. The main floor features two bedrooms with queen size beds (one Tempurpedic) and a full tile bath. Upstairs you'll find a loft with two twin beds and a half bath. Amenities include a covered deck with views of Fodderstack mountain, high speed wireless Internet, satellite TV, DVD player with movies, Wii gaming system, gas grill, full-size washer and dryer, dishwasher, bed and bath linens, lockable storage shed for gear and walking trails on the property. Accommodates 6 people.
http://deerridgepm.com/rentals/serenade-cove/
Sunset Motel
Walk to downtown from this kitschy, clean, quaint and affordable vintage gem. Recently renovated, the motel has an apartment, cottage and 18 rooms – all differently decorated. Smoke-free with modern amenities.
http://thesunsetmotel.com