Mountain Biking the Big Ivy (Coleman Boundary) Area
Overview
Big Ivy, long known by locals as Coleman Boundary, is a section of Pisgah National Forest near a community of the same name below the Blue Ridge Parkway as it runs across the ridges of the Great Craggy Mountains to the east.
While the valley floor is around 2500 ft elevation, peaks in the range top out at over 6000 ft, making for a difference in elevation of over half a mile. This contributes to the variety of ecosystems found here, and the resultant rich, invigorating forest cloaks miles of trails ready for your exploration.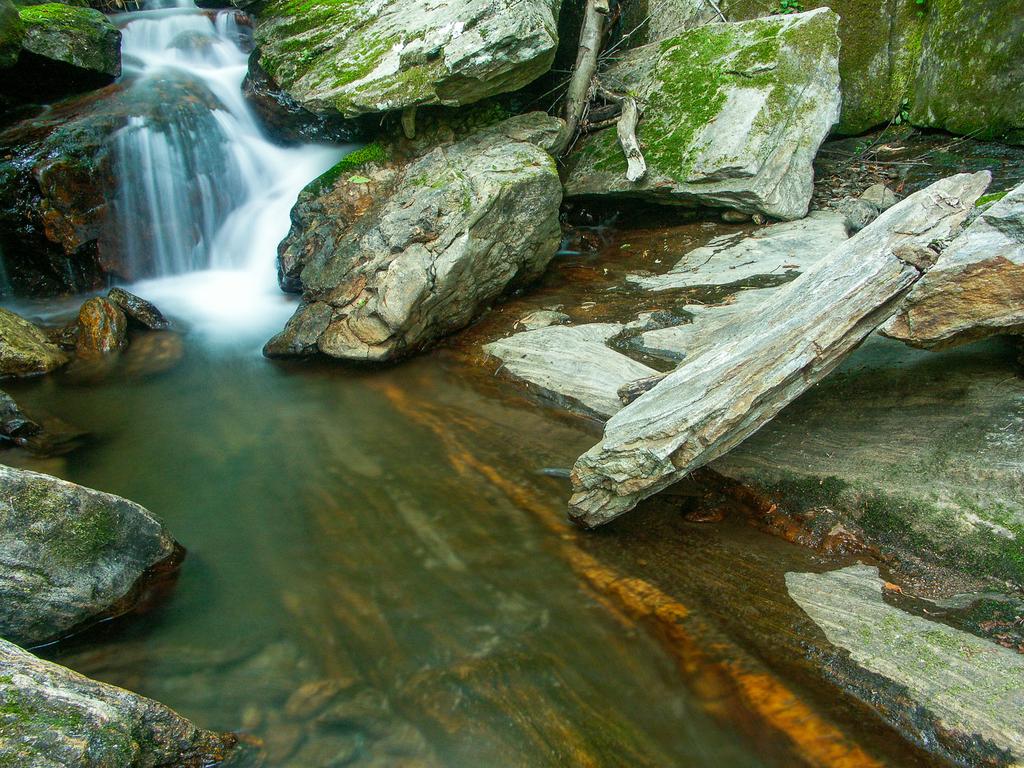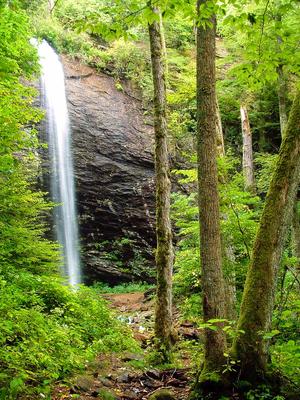 The area is located northeast of Asheville and encompasses the watersheds of Carter and Dillingham creeks - headwaters for the Big Ivy River, which give the area its official name. These lands are draped across the Great Craggy Mountains and the westernmost fringes of the Black Mountains. This mountain area, bordered by the Blue Ridge Parkway to the east, contains some of the most rugged and scenic terrain in Western NC. In fact, at the time when there was a push to create a National Park in the Southern Appalachians, this area was under consideration for National Park status (as was the Great Smoky Mountains).
The Smokies won out in that debate, but much of the area is now under National Forest Service ownership. Many significant attractions can be found here: large waterfalls and cascades (notably Walker Falls and 70 foot free falling Douglas Falls); sheer rock cliffs which draw rock climbers from afar; and scenic forests and streams. Rare old growth and virgin forests with enormous trees make the area ecologically significant; the Craggy Mountain Scenic Area encompasses a section of Big Ivy.
Mountain Biking Trails
Mountain biking is allowed on seven trails in the area. An 8-mile gravel road traverses the slope, FS 74, and it is popular with mountain bikers for linking the trails together into loop rides. Horseback riding is also popular in this area, so be extra aware of horses when riding here.
All of the trails (except one - Laurel Gap, an 80's era logging road) are fairly steep, and most follow the routes of old logging paths except limited stretches where they've been re-routed for sustainability in more recent years. The Bear Pen, Corner Rock, Elk Pen, Perkins, Staire Creek, Little Andy, and Walker Creek trails all follow this paradigm, climbing through mixed forests from lower to higher elevations. There are streamside areas and drier areas on each.
This is just an overview of the trails in the Big Ivy area. For complete trail details, visit the Big Ivy Trails page.
Map
Here's a map of the Big Ivy area. For more maps, including printed publications, see our Big Ivy maps page.
Download GPS Data
Click routes, trails, or points on the map to download them (on the GPS Data tab).
Places to Stay
Camping
No developed camping is offered in this area. Backcountry camping is allowed as long as you are 500 feet from roads and the picnic area, and not in designated wildlife openings.
Lodging
The towns of Weaverville and Mars Hill presents options for lodging closest to this area and Asheville has most major chain hotels/motels, about a 40 minute drive.
Dry Ridge Inn
Most important to your Asheville getaway is a warm welcome and courteous attention. This is what you will receive at the Dry Ridge Inn, located in Weaverville, NC. Our historical three story home has eight rooms and all include private baths, gas fireplaces, and Cable TV and DVD Player. Some can be combined to make suites for large families. Our bed and breakfast country inn is just a short drive from the Blue Ridge Parkway - ideal for recreation or simply to enjoy the enchantment of the Blue Ridge mountains. The Biltmore Estate and downtown Asheville are also just 10 minutes away, and the Coleman Boundary area is a scenic 20 minute drive. The inn provides a wonderful getaway for those romantic special occasions: honeymoons, an anniversary, or any other time when romance is in the air! Our desire is that your stay with us at our bed and breakfast accommodation be a comfortable, happy, and memorable one. You will find our home comfortable, food delicious and our spacious grounds inviting and relaxing. Enjoy a book on the porch swing or gaze into the water garden and let the waterfall soothe you.
http://www.dryridgeinn.com
Directions
From Asheville, take future I-26/US 19-23 north (4-lane) for about 11 miles. Take the Jupiter/Barnardsville (NC 197) exit. Turn right toward Barnardsville and follow NC 197 (2-lane highway) about 6 miles to the town of Barnardsville. Turn right onto Dillingham Road just past the fire station. It's about 6 miles to the National Forest - stay on Dillingham Road. You will cross a one-lane bridge and the road will turn into gravel FS 74. Several rides start at the Corner Rock picnic area, about .4 mi up this road, on the right, across a concrete bridge.