Eastern Slickrock Ride
This figure-8 loop ride has a ton of special features, including what makes riding at DuPont unique: large sections of slickrock on the Cedar and Big Rock trails. It also has some significant climbs, some fast, flowy sections of trail, a very technical descent, and immeasurable scenery. This one's a blast and it's highly recommended!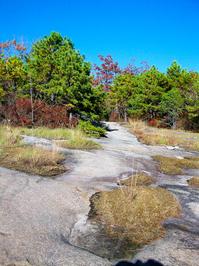 At A Glance

5.4 mi round-trip
Difficulty Rating: 7.77


Tread Condition: Moderately Rough


Climb: Hilly


Climb Total: 850 ft
Configuration: Figure-8 Loop
Starting Point: Corn Mill Shoals parking area

Trails Used: Big Rock, Burnt Mountain, Cedar Rock, Corn Mill Shoals, Little River
Directions
From Asheville, take I-240 west to I-26 east to the exit for the Asheville Airport (exit 9). Turn right onto NC 280; follow this 4-lane highway for 16 miles toward Brevard. Stay straight on the 4-lane, NC 280 ends and the highway becomes US 276/US 64. Stay on this until downtown Brevard; turn left to follow US 276. Stay on 276 until Cascade Lake Road; just past Grammy's restaurant. Turn left here. Go about two miles and park in the large parking area on the left, rimmed with huge boulders and with an information board in the back of the lot. The Corn Mill Shoals Road trail starts across the road from the parking lot. Locate DSF on the WNC Area Map.
Details
Ride Description
Ride across Cascade Lake Road and onto Corn Mill Shoals Road. Ride down and around the blue gate. This is an old gravel road, and you'll immediately pass the junction with the Longside trail on your left. Continue on Corn Mill Shoals Road a short distance to the signed junction with Big Rock trail on the left; turn here.
The first part of Big Rock trail is a steep, rocky, and fairly technical climb through a small cove. Before long, Big Rock trail will climb up on the ridge and emerge from the forest onto solid granite slickrock.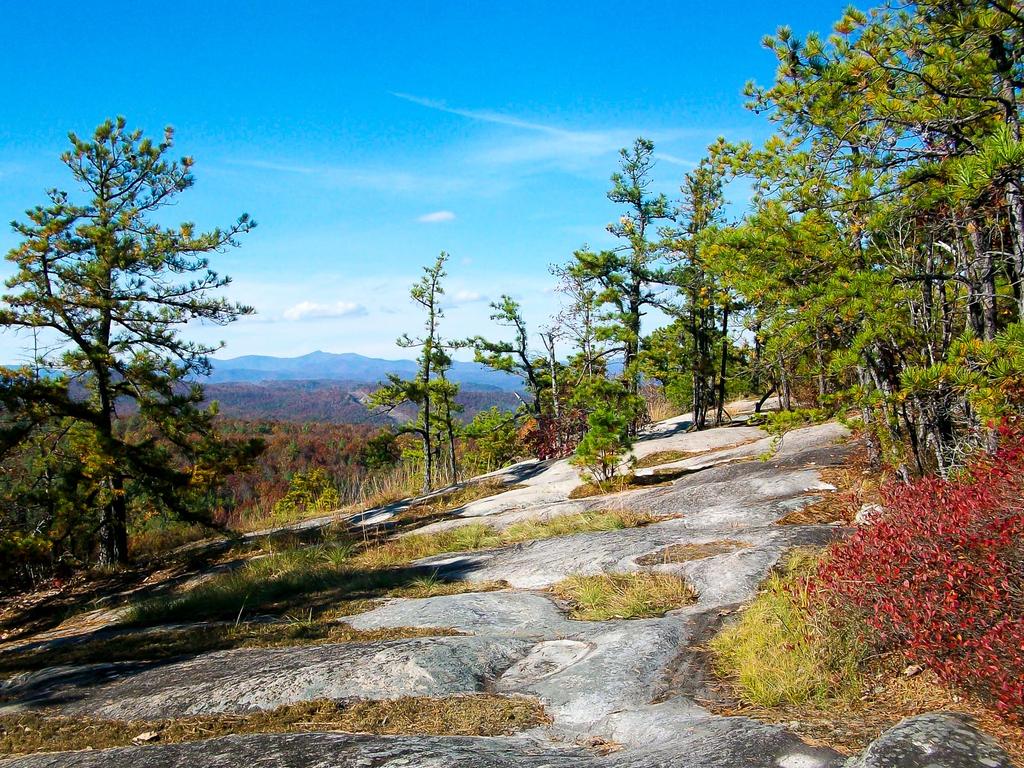 The slickrock sections are somewhat technical, with pits, dips, and drop-offs. Short, steep sections are common. Your tires will have great traction when it does get steep (unless there are leaves or pine needles on the rock - then, watch out!). As you near the summit of Cedar Rock, an incredible view to the west of the Bervard valley and the Pisgah Ridge will open up on the left. You can ride right up to the overlook.
Follow the cairns and blazes, and stay off the patches of moss between the solid rock sections, which dies if it gets trampled or ridden on too much. The trail will continue in this manner all the way to the top of the mountain, passing through sections of woods and then out onto rock again.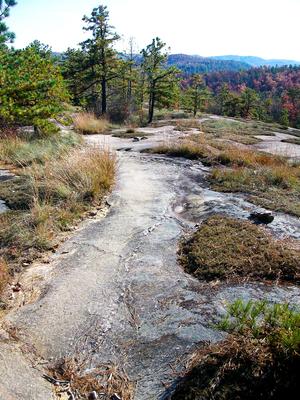 After topping out, the trail starts downhill through a twisty section in the woods and curves back to the south, downhill. You will veer north and pop out onto slickrock once again to reach a junction with the Cedar Rock trail. This junction is marked by cairns and a sign anchored with stones. Turn right onto the south/west leg of Cedar Rock trail to begin the infamous slickrock descent that makes this trail famous.
(A left turn here, onto the north/east leg of the trail, also has some great slickrock and you should probably aim to ride that trail too someday.)
While you're enjoying the descent, pay close attention to the cairns! It's easy to wander off the trail here and end up at a dead-end by the woods line. This downhill section is moderately steep, bumpy, technical, and fast, and it's almost all on solid rock. The trail will reenter the woods, leaving the slickrock behind, and become rather technical again. There are some deeply eroded areas, rock drops, and rock armored sections. You'll soon bottom out at the signed intersection with the Little River trail.
Turn right onto the Little River trail. This trail - which is hardpacked doubletrack - is rolling and fairly fast. A few rocky sections, deep sand pits, and a good creek crossing (by means of either a ford or a sketchy log bridge), and scenic woods spice up this part of the ride.
You will soon reach the signed intersection with Corn Mill Shoals Road. Make a hard left here. This doubletrack trail is also on an old road bed. Next, at the intersection with the Burnt Mountain trail, bear right, uphill, onto Burnt Mountain. I'd call this wide singlegrack, and it starts out as a fast, rolling, and fun ride as it follows the Little River. Further along, the trail becomes a bit more demanding - there are some rocky sections and even a few very short pieces of slickrock. Then the trail takes a more uphill path away from the river and starts a more steady climb up Burnt Mountain.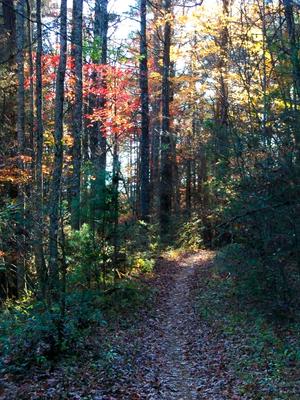 The trail will round a wide right turn back to the north and continue uphill toward the summit. The singletrack continues climbing steadily and it flows on and off the old road bed, making it a lot more enjoyable than before when it just shot straight up the road. You'll pass just below the summit of Burnt Mountain as you reach the top of the climb. A faint trail leaves to the left; bear right, downhill, and prepare to have some fun! (Note: be very careful to watch for horses on their way up here; they prefer to climb this section of trail while mountain bikers prefer to drop it.)
This descent starts out as a section of fast and twisty singletrack. It becomes increasingly more demanding of your technical skills, with some excellent rolling jumps at first, followed by a notorious descent that's quite steep and rocky with a few short drop-offs. Those can be nasty if you're not paying attention and you'll need to be way behind the saddle in places. All too quickly you'll reach the bottom of the descent and the intersection with Corn Mill Shoals Road once again.
Look right and you will see the intersection with the Little River Trail you passed through earlier about a hundred feet downhill. Unless you want to head back up Burnt Mountain for another lap, turn left and begin climbing up Corn Mill Shoals Road toward the parking area.
This ride culminates in a moderate climb, followed by a short but fun descent with a few rock jumps. You'll pass the Big Rock trail on your right, ride around the gate, and cross Cascade Lake Road to reach your vehicle at the parking lot.
Alternatives: turn left at the Big Rock/Cedar Rock trail intersection instead of right to descend the east side of the Cedar Rock trail, and then turn right at the intersection with the Little River trail to resume this ride as described. This alternative adds a few miles to the ride overall, and for the best of both trails, loop back up Big Rock and do them both.
Also, try riding either of the smaller loops in the opposite direction - it totally changes the character of the ride. More nearby trails can of course be added in for nearly endless ride options.
All Photos from This Ride
Map
Green highlight indicates the route to follow within the trail network for this ride.
Tip: Printing this map? You can pan and zoom the map as desired before printing to show the area you need.
Map Information
Download GPS Data
Click on a route, trail, or point on the map and select the GPS Data tab to download its data.
Data Formats
KML (Google Earth)
KML is the main file type used by Google Earth. If you have Google Earth installed, clicking the KML link should open the trail or point directly in Google Earth for viewing. This is the native file format used by Google Earth, but many other map applications can use and understand KML as well, so if you're not sure which one to download, KML is a good bet.
GPX
The GPX format stands for GPS Exchange - a free, open, XML format for exchanging GPS and map data. GPX is compatible with Google Earth, many other mapping programs, and most GPS devices (such as Garmin). Load the file directly into your GPS to help find your way on your next trip!
GeoJSON
GeoJSON is a newer, lightweight data exchange format which can be used to quickly share map data and may have a smaller size than KML or GPX. Many professional mapping and GIS applications support the GeoJSON format.
About the Map
Copyright
Base Layers
Base layers provided by OpenStreetMap, the US Geological Survey, the US Forest Service, and NC OneMap. Base layer images are subject to the respective copyright policies of their owners. Base layers may not be available at all times due to system maintenance or outages.
WNCOutdoors Base Layer
The WNCOutdoors Base layer is provided by WNCOutdoors.info. It is licensed by Creative Commons Attribution 3.0.
Trail and Marker Overlays
Trail layers and downloadable data are all original works created by WNCOutdoors with guidance from a variety of sources, including ensembles of our own GPS tracks, user contributed GPS tracks, official maps and GIS data from government agencies, and field observations. WNCOutdoors data is made freely available under the Open Database License - you are free to copy and use it for any purpose under the terms of that license (summary).
Tips
Hover over a trail to see it highlighted. Helps to see start and end points for an individual trail.
Scroll and zoom the map before printing, and that view will persist into the printed image.
Click a trail for more details and to download it individually.