Cedar Rock Trail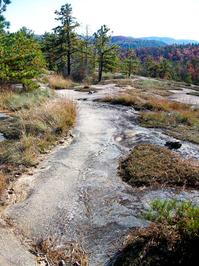 At A Glance




1.43 mi one-way
Difficulty Rating: 1.43


Steepness: Hilly


Tread Condition: Moderately Rough


Rides That Use This Trail: Eastern Slickrock

Description
Don't miss this one! This trail offers some of the best - and only - slickrock riding in the East. Combined with Big Rock, this covers most of the slickrock in Dupont. Long sections of solid, rough granite are interspersed with patches of trees, dirt, sand, and moss. You'll find rocky, technical downhills both ways.
This is a moderate climb if ridden east-to-south; more of a killer climb if ridden south-to-east. Open areas are awfully hot in summer; bring plenty of water. Forested areas consist of thin pine trees and there are some great views. Some lower sections in the woods have been rock-armored to help prevent erosion.
This trail is part of the Eastern Slickrock Best Ride.
The trail is shaped like a half-loop; you can ride it in either direction using the Little River trail to close the loop.
Intersecting Trails
This trail is located in the Dupont State Forest area. For a list of all the trails in that area, see the Dupont State Forest trails list page.
All Photos from the Trail
GPS Map
Download GPS Data
Click routes, trails, or points on the map to download them (on the GPS Data tab).
Trail Segments
Trails are often made up of several connecting paths which may have different characteristics, allowed uses, and seasons. This trail is divided into multiple segments as follows:
Cedar Rock - NE
Allowed Uses: Hiking, Mountain Biking, Horseback Riding
Length: 0.83 mi
Cedar Rock - SW
Allowed Uses: Hiking, Mountain Biking, Horseback Riding
Length: 0.59 mi
Total Calculated Length: 1.43 mi
This value is derived from our underlying map data, and it may not match officially published information.
Feedback
Ratings
Average Rating: 5.0 (rated 1 times)
Rate It Now:
Comments