Picklesimer Fields Ride
Starts beside a scenic creek with rushing waterfalls and calm, meandering sections. Goes through beautiful forests. You'll ride through the open, grassy Picklesimer Fields area itself. The route includes long/moderate and short/steep uphills, fast descents on gravel roads and singletrack, a good gravel road climb, views, jumps, creek crossings, mud, and fast, rolling, beautiful singletrack.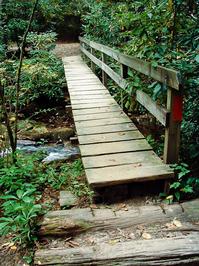 At A Glance

11 mi round-trip
Difficulty Rating: 15.59


Tread Condition: Moderately Rough


Climb: Climbs Steeply


Total Elevation Gain: 1600
Configuration: Loop on singletrack, doubletrack and gravel roads. A section of singletrack is ridden twice near fish hatchery.
Starting Point: Pisgah Center for Wildlife Education and the Fish Hatchery

Trails Used: Art Loeb Bypass, Butter Gap, Cat Gap Loop, Cemetery Loop, Long Branch
Directions
From Asheville, take I-240 west to I-26 east to the exit for the Asheville Airport (exit 40). Turn right onto NC 280; follow this 4-lane highway for 16 miles toward Brevard. At the intersection with US highways 276 and 64, turn right onto US 276 west (follow signs for Pisgah National Forest). Follow US 276 for 5.2 miles; turn left onto FR 475. Go 1.4 miles to the Center for Wildlife Education and Fish Hatchery. Turn left, cross the bridge and park in the parking lot.
Details
Ride Description
This ride is open to bikes seasonally, from October 16 - April 14 only!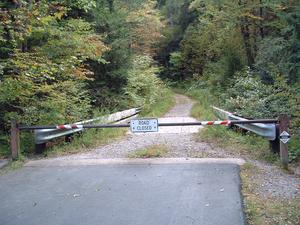 Start the ride by taking FS 475C south out of the parking lot. It's the road to your left if you're facing the Pisgah Center for Wildlife Education building. The road leads toward the towering John Rock mountain. There is a sign stating "Authorized Vehicles Only" hanging on the gate - however it's OK to follow this road on foot or on a bike. Go around the gate and immediately cross the bridge. Then immediately after that, turn right onto the Cat Gap Loop trail.
This starts out with a steep, but short, push up some log steps. It quickly moderates into a gently rolling trail just outside of a forest research area, marked by a green chain-link fence. There are a few technical spots and one tiny stream crossing.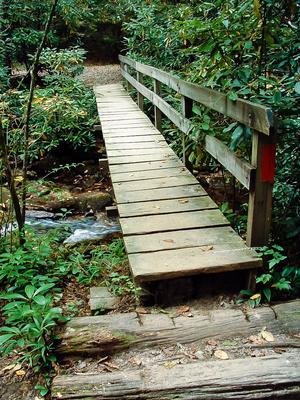 You'll come to a footbridge over Cedar Rock Creek; cross it, then cross the gravel road just past it, and then pick up the Cat Gap trail again on the other side. That starts a steep, eroded climb which needs re-engineering. But it takes you up to an old road bed soon and levels out.
The road bed turns into a moderately climbing trail, which runs high up along the side of the valley. Down below you on your left, you will pass the weir where the creek water is diverted into the fish hatchery. The cold, clear waters of Cedar Rock Creek are perfect for raising the trout.
There are rough sections and waterbars in places on this stretch of trail, and it passes through rhododendron tunnels. The trail will pass by a nice but overused campsite under some huge, dying or dead hemlock trees. Just downstream from this campsite, there is a hidden waterfall. Listen for it - it's worth a visit but be careful around waterfalls and slick rocks.
Just past the campsite is the intersection with the Butter Gap trail, marked by a big rock slab. Turn right here and ride through Picklesimer Fields: a relatively level area with a grassy wildlife clearing. After that, there is a level to gently uphill section, where the trail runs close to the crystal clear mountain stream. This is the stream which you will follow all the way up to its headwaters near Butter Gap.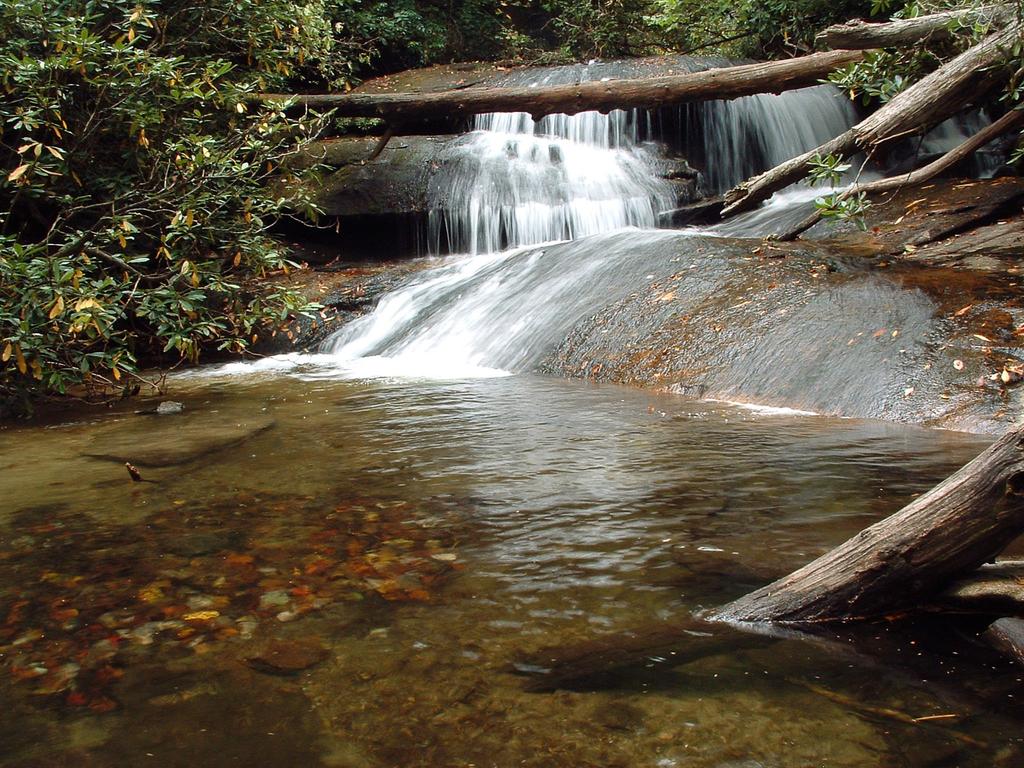 At the next intersection, you'll begin the loop portion of the ride. You can go either way, but I really like to ride Long Branch from west to east, so that's how I'll describe it. If you know for sure you'd prefer an all-singletrack downhill rather than a technical climb, go the opposite direction.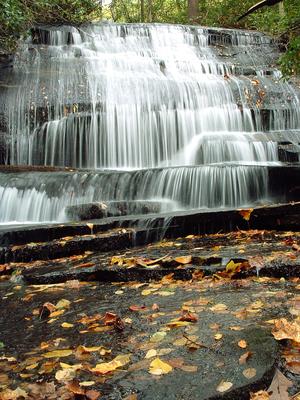 Turn left onto the Butter Gap trail to begin a fast, gradual, fun climb. There is another waterfall just off the left side of the trail; you can't miss it. The trail switches back and, for a short distance, becomes quite steep and technical near the upper reaches of the creek.
At Butter Gap, there is another intersection. Make a sharp right onto the Art Loeb bypass trail. This last little climb will top out at about 3320' - the highest point on the ride - and then bring you down a bit to the next intersection.
Ride straight across, onto the gravel road heading downhill. This fast, fun downhill is becoming doubletrack or even singletrack, and has some fun turns. At the bottom, watch out for the gate and turn right onto FS 471.
This begins a climb that will top out at about 3420'. It's not very steep, but I find it tedious for some reason. It soon begin to go down again, and you'll end up in Gloucester Gap, where a multitude of forest roads and trails come together.
Here, make a sharp right onto FS 475. This is another fast downhill, but beware of vehicles. After a steep section where you just get your speed back up, there will be a small parking pulloff and you will want to turn right here onto the Long Branch trail; this turn is easy to miss, so be on the lookout for it!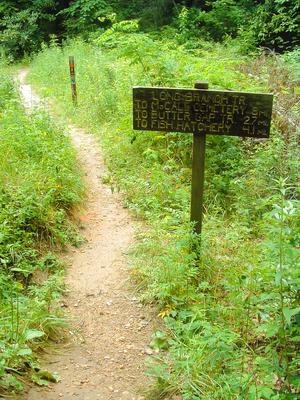 I'm not sure why, but the trail from here back to Butter Gap is one of my favorites - and primarily going in this direction. It starts off slightly downhill; it's also fairly technical. At the intersection with Cemetery Loop, make a right, and then cross Long Branch. Another short climb and downhill will take you to an intersection with another gravel road (FS 5095).
If you're feeling adventurous, turn left and ride a short distance to where the road crosses Long Branch. A waterfall is just upstream on the left. Otherwise, ride straight across and pick up the trail again on the other side for some more downhill and rhododendron tunnels.
After a great descent through one such tunnel, you will cross Searcy Creek with a splash and begin another short climb. The trail heads back down some more; after another short descent you will reach the intersection back with the Butter Gap trail. Make a left here to close the loop.
Backtrack to the fish hatchery and starting point via the Butter Gap trail. It's a lot of fun in this direction, as it's mostly downhill. Finish the ride back at the Fish Hatchery parking area.
Note: Many people think I'm crazy to recommend climbing up the Butter Gap trail only to lose elevation on FS 471 and 475. But that's because I much prefer riding Long Branch from west to east for some reason, and the gravel road descent is a relaxing middle section to the ride. So, that's how I describe it. If you know you'd prefer a steep, technical, all-singletrack descent from Butter Gap to the Fish Hatchery, vs. a steep, technical climb on Butter Gap followed by the more subdued drops on Long Branch, then try this ride in the opposite direction. Or better yet, ride it both ways and then decide which you like best! It's one worth repeating.
This ride is often combined with the Cove Creek and/or Daniel Ridge trails (via the Davidson River trail) to make for a longer outing, and it's highly recommended if you have the energy and time.
All Photos from This Ride
Map
Green highlight indicates the route to follow within the trail network for this ride.
Tip: Printing this map? You can pan and zoom the map as desired before printing to show the area you need.
Download GPS Data
Click routes, trails, or points on the map to download them (on the GPS Data tab).