Green's Lick Trail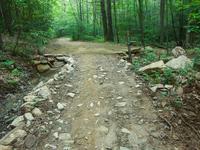 At A Glance



2.5 mi one-way
Difficulty Rating: 2.5


Steepness: Climbs Moderately


Tread Condition: Some Obstacles

Description
Although we've been riding this for years, it was never an official trail by Forest Service standards. The old trail followed an old road bed from just below North Boundary Road to the top of Laurel Branch Road. The connector between North Boundary and the old road bed, however, was extremely steep, eroded, and unsustainable. In 2006, the Forest Service awarded a contract to build a proper re-route from North Boundary down to the gravel road, re-work the portion on the gravel road, and added the trail to the trail system. Best ridden from the top down, Green's Lick is now a fast, mostly smooth descent of almost 800 feet in 2.5 miles. Most of it is not very steep, but some parts do require your attention. The big news here though is the dozens of large, undulating dirt mounds that were added to the trail. Officially built as water turnouts, these were designed with mountain bikers specifically in mind and make either fantastic jumps or roller coaster like whoop-te-doos. Big banked turns add a little curvature to the mix and a few rocks and roots left here and there spice it up a bit. The trail is just pure fun. It may not be the technical, sit-on-your-tire bomber that it used to be, but most folks won't be disappointed.
Intersecting Trails
This trail is located in the Bent Creek area. For a list of all the trails in that area, see the Bent Creek trails list page.
All Photos from the Trail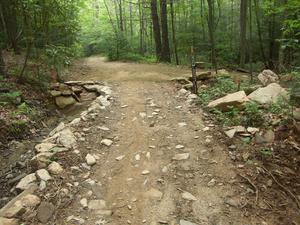 GPS Map
Download GPS Data
Click routes, trails, or points on the map to download them (on the GPS Data tab).
Feedback
Ratings
Average Rating: 4.0 (rated 11 times)
Rate It Now:
Comments