Deerfield Loop Trail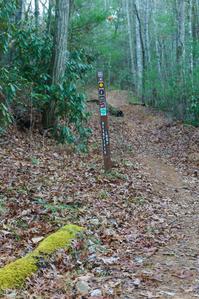 At A Glance



0.8 mi one-way
Difficulty Rating: 0.8 (Easy)
Steepness: Few Hills
Tread Condition: Some Obstacles
Blaze Color: Yellow
Trail Number: 335

This trail is located in the Bent Creek area. For a list of all the trails in that area, see the Bent Creek trails list page.
Description
Short, but fun loop. Have a few extra minutes after your longer ride at Bent Creek? Hit this one for a nice finish. Steep in places; passes a small wildlife opening. Mostly doubletrack on old roadbeds but one section is true singletrack on the side of a steep slope. Includes one rather technical creek crossing with a slippery, sloping rock and huge roots. Recommended to ride counter-clockwise.
All Photos from the Trail
GPS Map
Download GPS Data
Click routes, trails, or points on the map to download them (on the GPS Data tab).
Trail Segments
Trails are often made up of several connecting paths which may have different characteristics, allowed uses, and seasons. This trail is divided into multiple segments as follows:
Deerfield Loop - Rd. to Homestead
Allowed Uses:
Length: 0.14 mi
Deerfield Connector Trail
Allowed Uses:
Length: 0.22 mi
Pine Tree and Deerfield Loop - Rd. to Deerfield Int.
Allowed Uses:
Length: 0.21 mi
Deerfield Loop
Allowed Uses:
Length: 0.72 mi
Total Calculated Length: 1.28 mi
This value is derived from our underlying map data, and it may not match officially published information.
Intersecting Trails
Feedback
Ratings
Average Rating: (rated 0 times)
Rate It Now:
Comments