Alexander Park M3 Loop Trail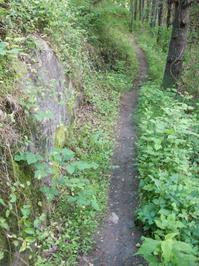 At A Glance



2.8 mi one-way
Difficulty Rating: 2.8


Steepness: Hilly


Tread Condition: Some Obstacles


Blaze Color: Yellow

Description
Of the two loops in the park, this one feels more fast and flowing, but it has some twisting sections too. Up-and down the hills all the way around. This is where the yellow-blazed M3 loop begins, with a short out-and-back section at the beginning. Riders are asked to ride counter-clockwise around this loop; bear left at the junction. Has lots of pump-track style dips and rolls, banked turns, and a few switchbacks, steeps, bridges, and rocky sections thrown in for good measure. Passes thru some neat grassy areas, pine woods, and there are some nice views of the river and surrounding mountains. M3 Loop stands for "Michael McGauhey's Meandering Loop" - Michael was a big proponent of the original trail at Alexander Park and largely responsible for making it happen. See the dedication to him at the sign board.
Intersecting Trails
This trail is located in the Alexander Mountain Bike Park area. For a list of all the trails in that area, see the Alexander Mountain Bike Park trails list page.
All Photos from the Trail
GPS Map
Download GPS Data
Click routes, trails, or points on the map to download them (on the GPS Data tab).
Feedback
Ratings
Average Rating: 3.8 (rated 4 times)
Rate It Now:
Comments