Alexander Park Right Loop Trail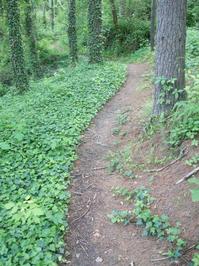 At A Glance



3.3 mi one-way
Difficulty Rating: 3.3


Steepness: Hilly


Tread Condition: Some Obstacles


Blaze Color: Red

Description
The more tight-and-twisty of the two loops at Alexander MTB Park. However, it's not extremely so and there are some fast sections too. Riders are asked to go counter-clockwise on this loop, and it's mostly well-signed and easy to follow. The trail hops on and off of old roadbeds and newly-constructed tread, with plenty of variety and technical areas to spice it up. There is one small creek crossing - the only one in the park. Travels near the active landfill area - unfortunately, yeah, you might smell it a bit right along this section of the trail. But for the most part you don't hear or see the landfill from the trails.
Intersecting Trails
This trail is located in the Alexander Mountain Bike Park area. For a list of all the trails in that area, see the Alexander Mountain Bike Park trails list page.
All Photos from the Trail
GPS Map
Download GPS Data
Click routes, trails, or points on the map to download them (on the GPS Data tab).
Feedback
Ratings
Average Rating: (rated 0 times)
Rate It Now:
Comments