Mountain Biking at Bent Creek Experimental Forest
Overview
Located in the northern tip of the Pisgah Ranger District of the Pisgah National Forest, the Bent Creek Reasearch and Demonstration Forest encompasses Bent Creek's watershed, and contains a collection of trails that is well suited to beginning and intermediate mountain bikers, families, and groups. With some trails containing large climbs and technical sections, more advanced riders will can fun here as well.
Bent Creek is popular for after-dinner rides, because it is just a few minutes' drive from Western North Carolina's largest city, Asheville. A campground, mountain lake, and family recreation area make this area very popular with tourists.
This trail network can be connected with others in Pisgah National Forest via the unimproved Bent Creek Gap Road to make long, epic type rides. This area is also a perfect place to begin your day trips if you plan on spending several days in Pisgah.
Though less advanced riders may find them difficult, none of the trails in the Bent Creek trail system are considered extremely technical - especially since most have been re-graded in the last few months. Most trails follow old road or railroad beds and have only a few areas that require significant technical skill, with steeps, rocks, roots, mud, and creek crossings. Fast, hardpacked sections of trail lie between these obstacles.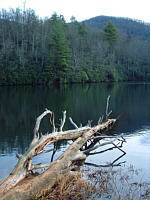 Bent Creek Area News
A lot of work has been put into Bent Creek's trail system over the last decade or so. Here's a summary of what's been done:
A 2002 Decision Notice released by the Forest Service designates a new trail system, and states that "All areas off these designated trails in the Bent Creek area would be closed to equestrian and bike use." Mountain bikers had been informally assuming trails were open unless signed otherwise; this stricter standard eventually spreads to the rest of the National Forest areas and is now considered the norm.
Starting in April, 2004, Forest Service officials began citing mountain bikers found on the closed trails with a $75 fine.
In May, 2004, the Forest Service issued a nice official map of legal trails at Bent Creek and begun a signage project to ensure that everyone is aware of which trails are open.
During the Spring of 2006, many of the old trails in Bent Creek were rehabilitated. Light machinery and lots of elbow grease went into re-surfacing about 15 miles of existing trails.
A logging project, completed in 2007, converted several miles of trails into roads. Work is continuing to restore the trails which were temporarily converted to roads to a trail-like status. This will be a long process, but riding conditions on them should start to improve quickly. Watch out for new sunny openings on hot summer days (plan on hitting them going downhill). We moved the history of the logging project and its effects on the trail system to this post on the WNCOutdoors.info Blog.
Several user-created, non-system trails have been closed and rehabilitated. Several very logical user-created trails have been added to the trail system inventory, including a connector from North Boundary Road to the excellent "Green's Lick" trail (which has seen realignments and been reopened), and a connector from the end of the Hardtimes Connector trail to the Deer Lake Lodge trail.
Work on several new parking areas has been completed in 2009, with expansions at others. Parking is much more plentiful in the area than it used to be.
Finally, in addition to the trail work, Lake Powhatan was drained, dredged, and re-filled. It should be deeper and cooler now.
Forest Research and Riding at Bent Creek Experimental Forest
This guide is intended to help inform people of where and where not to ride at Bent Creek. A 2002 Decision Notice issued by the Forest Service stated that "All areas off these designated trails in the Bent Creek area would be closed to equestrian and bike use." This was a break from policy elsewhere in the Pisgah Ranger District which stated that all trails are open unless signed as closed, and users would not be cited for using a closed trail that is not signed.
But because Bent Creek is a specially designated research forest, mountain bikers need to make sure that it is not abused in any way. Research is this forests' primary use. Riding off-trail or riding on user-created trails that are not part of the official trail system may not only get you a citation, but more importantly it may destroy decades of important research that cannot be recovered. If the privilege to ride in this area is abused, bikers and other recreational users may forfeit their right to enjoy the area forever.
Since the decision in Bent Creek, the idea of trails being "closed unless specifically posted as open" (when it comes to bikes) has spread throughout the National Forest; if not in policy, then in spirit. Also, Linear Wildlife Openings - what we might've called "old logging roads" in the past - are all explicitly closed to bikes and horses.
Therefore, all trails and roads shown on the maps as open and used in the ride descriptions on this site are system trails. Some non-system, user-created trails exist at Bent Creek that are not on the map. Stay on the trails signed open to bikes, and do not disturb any forest research areas. All gravel roads are OK to ride unless there are signs that state differently.
Places to Stay at Bent Creek
Camping
The Lake Powhatan Campground is located within the Lake Powhatan Recreation Area at Bent Creek. Open only from April 1 to October 31, this campground offers 85 sites, flush toilets, and hot showers. The campground is near the shore of Lake Powhatan, which includes a swimming beach and fishing pier. You can also ride right out of the campground onto Bent Creek's fantastic trails. Sites are between $20 and $40 a night and the campground can become quite crowded on summer weekends. There is no dispersed camping allowed within this area, and all old roadside campsites along Bent Creek Gap Road have been eliminated.
To get more information and reserve a site, visit the Lake Powhatan Campground Page on Recreation.gov
Lodging
Apple Blossom Cottage
Mountain biking, road riding and hiking galore are only minutes from Apple Blossom Cottage. We're 5 miles from the Blue Ridge Parkway (milepost # 405.5), 10 minutes from Pisgah National forest, 20 minutes from Bent Creek trails and 20 minutes from downtown Asheville! Come back to the cottage after a fun filled day...wash and then store your bikes in the basement, enjoy a cool one on either the front or back porch, then head to the hot tub where you can sit and relax while gazing overhead at the stars and moon while enjoying the luminance of the fireflies! And don't forget...we're PET FRIENDLY!
http://www.ashevillecabinscottagesandmore.com/
Asheville Cottages
http://www.ashevillecottages.com/
Bent Creek Lodge
We offer the perfect place to stay for your Western North Carolina biking adventure. The inviting lodge is located in a section of forest between the Blue Ridge Parkway and the French Broad River. You can easily bike or drive from the Lodge to the Bent Creek Recreation Area. The North and South Mills River areas are just a short drive down the road, and the Davidson River area and Dupont State Forest are only 45 minutes away. After a ride you can come back to the Lodge, soak those tired muscles in a whirlpool tub and head for the night life and great restaurants in Asheville, only 15 minutes away!
http://www.bentcreeknc.com
Bon Paul & Sharky's Hostel of Asheville
Relax in our back deck hot tub and watch the sunset with beautiful views of Mount Pisgah. Our friendly knowledgeable staff will tell you about all the great places to hike and check out in town. High Speed wireless internet is available. Linens are included. We have bikes to borrow, bus and airport pick up, and camping available as well!
http://www.bonpaulandsharkys.com
Directions to Bent Creek
There are several good starting points at Bent Creek, the most popular being the Hardtimes Trailhead. Others include the Rice Pinnacle parking area, the Lake Powhatan Recreation Area, the Lake Powhatan Campground, Ledford Branch Road and Boyd Branch Road.
Hardtimes Trailhead:
From Asheville, take I-240 west to I-26 east and get off on exit 2, NC 191. Turn left, pass the Biltmore Square Mall, and head south on NC 191 for 2 miles. Turn right at the stoplight onto Bent Creek Ranch Road, following the brown signs to the Lake Powhatan Recreation Area (bear left at fork after 0.2 mi on this road). The paved, signed Hardtimes trailhead parking area is just over 2 miles down this road on the left. Other popular starting points are beyond Hardtimes further into the valley.
To get to the other areas listed above, see the Bent Creek Area Maps.