Turkey Pen Gap Trail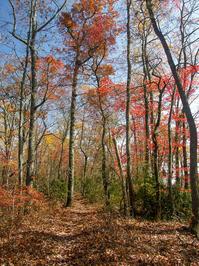 At A Glance



5.5 mi one-way
Difficulty Rating: 5.5


Steepness: Hilly


Tread Condition: Moderately Rough


Blaze Color: Blue
Trail Number: 332

Description
Long ridgeline trail which undulates up and down over the various knobs on its summit. Very steep in places; has some issues with erosion as well. It winds onto the edge of private land in places; stay on the trail. Enables a connection with trails in the Davidson River area via the Black Mtn. trail.
Intersecting Trails
This trail is located in the Mills River area. For a list of all the trails in that area, see the Mills River trails list page.
This trail also crosses into these trailhead areas:
All Photos from the Trail
GPS Map
Download GPS Data
Click routes, trails, or points on the map to download them (on the GPS Data tab).
Feedback
Ratings
Average Rating: 3.3 (rated 3 times)
Rate It Now:
Comments