Trace Ridge Trail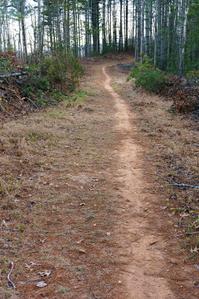 At A Glance




3.1 mi one-way
Difficulty Rating: 3.1 (Moderate)
Steepness: Climbs Steeply
Tread Condition: Some Obstacles
Blaze Color: Orange
Trail Number: 354
Rides That Use This Trail: Fletcher Creek

This trail is located in the Mills River area. For a list of all the trails in that area, see the Mills River trails list page.
This trail also crosses into these trailhead areas:
Description
Uphill from the Trace Ridge trailhead parking lot, this trail follows an old roadbed to the parkway. It is a rocky trail: either a fast, bumpy downhill, or a steep, technical uphill. Highly recommended!
Downhill from the trailhead, this trail was formerly a steep, damaged mess due to erosion - in places, it was a waist deep, clay canyon. As of October 2015, however, the trail has been re-routed and is now a sustainable, fast, flowy trail on a gentle grade, adding a good bit more distance to the trail in addition to solving the erosion issues. There are a few roots and rocks left to spice it up a bit, although it'd be a stretch to call it technical. This stretch is also now highly recommended!
All Photos from the Trail
GPS Map
Download GPS Data
Click routes, trails, or points on the map to download them (on the GPS Data tab).
Trail Segments
Trails are often made up of several connecting paths which may have different characteristics, allowed uses, and seasons. This trail is divided into multiple segments as follows:
Spencer Gap to Blue Ridge Parkway
Allowed Uses: Hiking
Length: 0.34 mi
Trailhead Parking to Spencer Gap
Allowed Uses: Hiking, Mountain Biking, Horseback Riding
Length: 2.69 mi
Trailhead Parking to Wash Creek Trail
Allowed Uses:
Length: 0.57 mi
Wash Creek Trail to N. Mills River Trail
Allowed Uses:
Length: 0.73 mi
Total Calculated Length: 4.32 mi
This value is derived from our underlying map data, and it may not match officially published information.
Intersecting Trails
Feedback
Ratings
Average Rating: 3.0 (rated 1 times)
Rate It Now:
Comments