Squirrel Gap Trail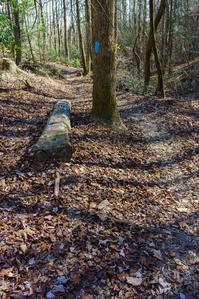 At A Glance



7.5 mi one-way
Steepness: Hilly
Tread Condition: Moderately Rough
Blaze Color: Blue
Trail Number: 147

This trail is located in the Mills River area. For a list of all the trails in that area, see the Mills River trails list page.
Description
This is a long, backcountry trail. It's purpose-built trail that doesn't follow any logging roads - a rarity in Pisgah. It's excellent - fast, technical, and fun narrow singletrack clinging to the mountainside in most places.
Intersects Mullinax, Laurel Creek, Cantrell Creek, and South Mills River trails, making for some great loop options.
All Photos from the Trail
GPS Map
Download GPS Data
Click routes, trails, or points on the map to download them individually (on the GPS Data tab).
Intersecting Trails
Feedback
Ratings
Average Rating: 4.0 (rated 1 times)
Rate It Now:
Comments