South Mills River Trail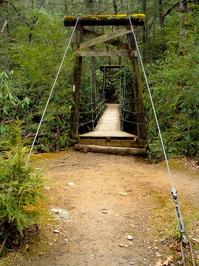 At A Glance



12 mi one-way
Difficulty Rating: 12


Steepness: Climbs Gently


Tread Condition: Moderately Rough


Blaze Color: White
Trail Number: 133

Description
This is a stream side trail along an old road bed for much of its length; pulls away from the river along one section around High Falls. Some roots and rocks spice up the ride here and there. Crosses the river using bridges (concrete and suspension) but fords it many times as well (especially between the intersection of Cantrell Creek and Squirrel Gap trails, a section which is also muddy and overgrown, so most riders avoid it). The mud pits will be nearly impossible to avoid so don't try, it'll only widen them. The trail receives heavy horse usage. The river is wide and scenic as it drops out of the Pink Beds.
Provides connections to several other trails in the South Mills River area such as Squirrel Gap, Cantrell Creek and Mullinax making for good loop options.
Intersecting Trails
This trail is located in the Mills River area. For a list of all the trails in that area, see the Mills River trails list page.
All Photos from the Trail
GPS Map
Download GPS Data
Click routes, trails, or points on the map to download them (on the GPS Data tab).
Feedback
Ratings
Average Rating: 4.1 (rated 8 times)
Rate It Now:
Comments