Pilot Rock Trail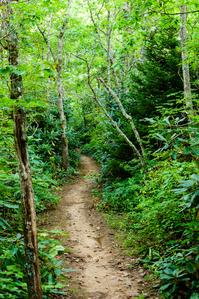 At A Glance



3.6 mi one-way
Difficulty Rating: 3.6


Steepness: Climbs Steeply


Tread Condition: Moderately Rough


Blaze Color: Orange
Trail Number: 321
Rides That Use This Trail: Laurel Mountain

Description
This trail is a blast and is nearly always ridden downhill. It's steep, with many sharp switchbacks. Very rocky; has a rock garden that's nearly impossible to ride, and many waterbars. Test out your suspension here! Great views from the top of Pilot Rock and nearby outcrops. One creek crossing near the bottom. I would not recommend riding this one uphill!
This trail is the south side of a classic Pisgah loop which includes Laurel Mountain and the Laurel Mountain Connector for the climb up, and Pilot Rock for the descent. See the Laurel Mountain Best Ride.
Trail intersects Blue Ridge Parkway property (you must carry bikes on Parkway property if you're heading up to the Parkway or the Pisgah Inn).
Intersecting Trails
This trail is located in the Mills River area. For a list of all the trails in that area, see the Mills River trails list page.
This trail also crosses into these trailhead areas:
All Photos from the Trail
GPS Map
Download GPS Data
Click routes, trails, or points on the map to download them (on the GPS Data tab).
Trail Segments
Trails are often made up of several connecting paths which may have different characteristics, allowed uses, and seasons. This trail is divided into multiple segments as follows:
Pilot Rock - BRP Boundary to MST
Allowed Uses: Hiking
Length: 0.42 mi
Pilot Rock - Thompson Creek to BRP Boundary
Allowed Uses: Hiking, Mountain Biking
Length: 0.34 mi
Pilot Rock - Laurel Mt. Connector to Thompson Creek
Allowed Uses: Hiking, Mountain Biking
Length: 0.13 mi
Pilot Rock - FS 1206 to Laurel Mt. Connector
Allowed Uses: Hiking, Mountain Biking
Length: 2.29 mi
Total Calculated Length: 3.18 mi
This value is derived from our underlying map data, and it may not match officially published information.
Feedback
Ratings
Average Rating: (rated 0 times)
Rate It Now:
Comments