Pilot Cove - Slate Rock Trail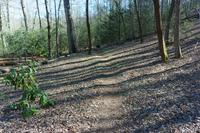 At A Glance



4.3 mi one-way
Difficulty Rating: 4.3


Steepness: Climbs Steeply


Tread Condition: Moderately Rough


Blaze Color: Blue
Trail Number: 320

Description
Fun creekside trail, rocky and rooty sections. There are several stream crossings and some small waterfalls on the creek. Steep sections as it goes over the gap on Slate Rock Ridge. Watch out or you will end up on the Laurel Mountain trail at Sassafras Gap (there is a confusing, unmapped connector between these two trails!). On the Pilot Cove side, the trail is a little flatter and also passes through some neat fern-filled woods. Connects to the Pilot Cove Loop Trail (#320A) which takes you to the top of Slate Rock for an alternative, ridge-top route around the cove, or can be combined with that trail for a shorter loop on its own on the west side. This trail is frequently combined with Laurel Mountain and the Pilot Rock trail as an "inner loop" alternative to using Yellow Gap Road (FS 1206) to connect the trailheads.
This trail is located in the Mills River area. For a list of all the trails in that area, see the Mills River trails list page.
All Photos from the Trail
GPS Map
Download GPS Data
Click routes, trails, or points on the map to download them (on the GPS Data tab).
Feedback
Ratings
Average Rating: 3.6 (rated 26 times)
Rate It Now:
Comments