Black Mountain Trail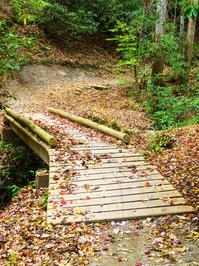 At A Glance



9.8 mi one-way
Difficulty Rating: 9.8


Steepness: Climbs Steeply


Tread Condition: Very Rough


Blaze Color: White
Trail Number: 127
Rides That Use This Trail: Black Mountain

Description
This heavily-used trail features incredible views, riding along a needle-sharp ridgeline, and lots of rock outcroppings and boulders. The trail itself is notable for its waterbars, switchbacks, and (unfortunately) heavily eroded sections. Either through erosion or work to repair it, which is ongoing, the trail is likely to change character as time goes on.
From the parking area just southeast of the Ranger Station on US 276, the trail begins on a gravel road and then veers left onto an old road bed ascending through Thrift Cove. Formerly lined with dark hemlocks, this cove features a tumbling stream and nice forest scenes filled with plenty of rhododendron.
The trail veers left again at the Thrift Cove trail intersection, becoming steeper as it climbs another old road bed. It crosses the creek a couple of times on ancient logging bridges, before pulling away from the creek to reach a switchback to the left. The trail ascends on a reroute that's in slightly better condition, and more like singletrack, up to the nose of the ridge, which it starts up directly. The forest here is mixed hardwoods.
The trail is highly eroded and technical from here to the top of Hickory Knob - which is over 1400 ft. of climbing from the trailhead. There are exposed roots, drop-offs, rocks, and broken waterbars all along the way. After a brief section of nice singletrack on top of Hickory Knob, the trail descends about 240 ft. on a slightly less eroded, but braided stretch down to Pressley Gap and FS 5099 (Turkey Knob Rd.).
Continuing straight across the road, the trail ascends some steps and prepares to climb nearly 900 more feet over a heavily eroded stretch, interspersed with some more decent sections of trail. The forest is typical of the ridglines in the area with mixed hardwoods and plenty of mountain laurel. Waterbars, roots, and a few rocks complete the seasoning of this stretch which is badly in need of repair. The difficulty tones down a bit past the Turkey Pen trail intersection as you move onto the top of the ridge and the shoulder of Black Mountain - the highpoint, at 4200 ft. elevation.
From here, the trail becomes less steep overall but has some ups and downs, with lots of technical obstacles. The trees are short and gnarled; the ridgeline between Black Mountain and Clawhammer Mountain is knife-sharp. This ridge divides the Davidson and Mills Rivers' watersheds. Great views open up in both directions, but especially to the southwest (a great place to stop for lunch). Past Clawhammer Mountain, the trail starts descending again over a rough, technical course toward Buckhorn Gap. It switches back past a neat rock cave at one point. The descent to Buckhorn Gap is about 550 ft.
From Buckhorn Gap, the trail climbs again, starting on log stairs, past the Buckhorn Gap shelter and up Soapstone Ridge. The trail is less heavily traveled by this point. After cruising up and down along the summit ridge of Rich Mtn. for a stretch it descends to its end in Club Gap.
To the right is the Club Gap trail; straight is Buckwheat Knob trail; left is Avery Creek trail. These connections provide numerous loop options in either direction.
Formerly, the trail continued down what's now the Club Gap trail making it longer. I've seen the length of this trail listed anywhere from 9 to 16 miles, but my map data says more like 7 1/2. The 9.8mi value shown here is the official Forest Service number.
Intersecting Trails
This trail is located in the Davidson River area. For a list of all the trails in that area, see the Davidson River trails list page.
This trail also crosses into these trailhead areas:
All Photos from the Trail
GPS Map
Map Information
Download GPS Data
Click on a route, trail, or point on the map and select the GPS Data tab to download its data.
Data Formats
KML (Google Earth)
KML is the main file type used by Google Earth. If you have Google Earth installed, clicking the KML link should open the trail or point directly in Google Earth for viewing. This is the native file format used by Google Earth, but many other map applications can use and understand KML as well, so if you're not sure which one to download, KML is a good bet.
GPX
The GPX format stands for GPS Exchange - a free, open, XML format for exchanging GPS and map data. GPX is compatible with Google Earth, many other mapping programs, and most GPS devices (such as Garmin). Load the file directly into your GPS to help find your way on your next trip!
GeoJSON
GeoJSON is a newer, lightweight data exchange format which can be used to quickly share map data and may have a smaller size than KML or GPX. Many professional mapping and GIS applications support the GeoJSON format.
About the Map
Copyright
Base Layers
Base layers provided by OpenStreetMap, the US Geological Survey, the US Forest Service, and NC OneMap. Base layer images are subject to the respective copyright policies of their owners. Base layers may not be available at all times due to system maintenance or outages.
WNCOutdoors Base Layer
The WNCOutdoors Base layer is provided by WNCOutdoors.info. It is licensed by Creative Commons Attribution 3.0.
Trail and Marker Overlays
Trail layers and downloadable data are all original works created by WNCOutdoors with guidance from a variety of sources, including ensembles of our own GPS tracks, user contributed GPS tracks, official maps and GIS data from government agencies, and field observations. WNCOutdoors data is made freely available under the Open Database License - you are free to copy and use it for any purpose under the terms of that license (summary).
Tips
Hover over a trail to see it highlighted. Helps to see start and end points for an individual trail.
Scroll and zoom the map before printing, and that view will persist into the printed image.
Click a trail for more details and to download it individually.
Trail Segments
Trails are often made up of several connecting paths which may have different characteristics, allowed uses, and seasons. This trail is divided into multiple segments as follows:
Black Mountain - Club Gap to Barnett Br.
Allowed Uses: Hiking, Mountain Biking
Length: 0.81 mi
Black Mountain - Barnett Br. to Buckhorn Gap
Allowed Uses: Hiking, Mountain Biking
Length: 1.15 mi
Black Mountain - Buckhorn Gap to Turkey Pen Gap
Allowed Uses: Hiking, Mountain Biking
Length: 1.78 mi
Black Mountain - Turkey Pen Gap Tr. to Pressley Gap
Allowed Uses: Hiking, Mountain Biking
Length: 0.95 mi
Black Mountain - Pressley Gap to Thrift Cove Tr.
Allowed Uses: Hiking, Mountain Biking
Length: 1.46 mi
Black Mountain - Thrift Cove Upper to Lower
Allowed Uses: Hiking, Mountain Biking
Length: 1.15 mi
Black Mountain - Thrift Cove Parking Connector
Allowed Uses: Hiking, Mountain Biking
Length: 53 ft
FS 5061 - Pkg Connector to Black Mt. Trail
Allowed Uses: Hiking, Mountain Biking
Length: 0.16 mi
Total Calculated Length: 7.48 mi
This value is derived from our underlying map data, and it may not match officially published information.
Feedback
Ratings
Average Rating: 4.0 (rated 6 times)
Rate It Now:
Comments