Flat Laurel Creek Trail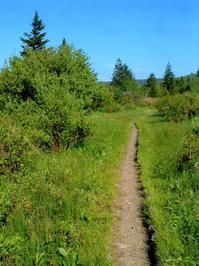 At A Glance



3.7 mi one-way
Difficulty Rating: 3.7 (Moderate)
Steepness: Climbs Gently
Tread Condition: Moderately Rough
Blaze Color: Orange
Trail Number: 346
Rides That Use This Trail: Flat Laurel Creek

This trail is located in the Black Balsam area. For a list of all the trails in that area, see the Black Balsam trails list page.
Description
This entire trail is above 5000 feet. Very scenic - awesome high elevation meadows near the Black Balsam parking area. There are many wet, seepy sections and creek crossings, and the trail is very rocky although a lot of work has been done to the trail recently reducing its technical nature but making it more sustainable. You'll find waterfalls, pristine streams, and a recovering spruce-fir forest along this trail. This trail is part of the Flat Laurel Creek Best Ride.
All Photos from the Trail
GPS Map
Download GPS Data
Click routes, trails, or points on the map to download them (on the GPS Data tab).
Trail Segments
Trails are often made up of several connecting paths which may have different characteristics, allowed uses, and seasons. This trail is divided into multiple segments as follows:
Flat Laurel Creek - NC 215 to Sam Knob Tr.
Allowed Uses:
Length: 2.32 mi
Flat Laurel Creek - Sam Knob Tr. to Little Sam Tr.
Allowed Uses:
Length: 0.38 mi
Flat Laurel Creek - Little Sam Tr. to Ivestor Gap Parking
Allowed Uses:
Length: 1.07 mi
Total Calculated Length: 3.76 mi
This value is derived from our underlying map data, and it may not match officially published information.
Intersecting Trails
Feedback
Ratings
Average Rating: 3.7 (rated 13 times)
Rate It Now:
Comments