Staire Creek Trail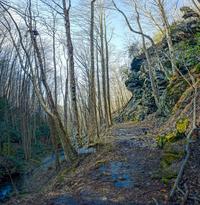 At A Glance



1.1 mi one-way
Difficulty Rating: 1.1


Steepness: Climbs Steeply


Tread Condition: Some Obstacles


Blaze Color: Orange
Trail Number: 183
Rides That Use This Trail: Staire Creek (Big Ivy North Tour), Big Ivy Tour (Coleman Boundary)

Description
Note: major maintenance work was started on this trail in Fall 2015 and the Forest Service has announced its closure to horses and bikes while that is completed. Expected re-opening is March 2016.
This trail is typically ridden in the downhill direction. A great, technical, steep descent through a beautiful mature hardwood forest with a smattering of rhododendrons lower down. Starts with a short ridge-top section before becoming sidehill and seriously down. It is muddy, rocky, and rooty in places; there are some eroded sections.
The lower portion follows the rugged, picturesque creek and levels out some, but becomes extremely rocky. Several huge rock caves are along the trail - at one point the rushing water can be heard in stereo as it bounces off a rock face. There are some wet and muddy spots. Part of the Staire Creek and Coleman Boundary Grand Tour best rides.
Some of the jumps and features being built along this trail are technically not on it; please stay on the designated path and do not add to these structures as they are illegally constructed.
Intersecting Trails
This trail is located in the Big Ivy (Coleman Boundary) area. For a list of all the trails in that area, see the Big Ivy (Coleman Boundary) trails list page.
All Photos from the Trail
GPS Map
Download GPS Data
Click routes, trails, or points on the map to download them (on the GPS Data tab).
Feedback
Ratings
Average Rating: 4.5 (rated 2 times)
Rate It Now:
Comments