Little Hickory Top Trail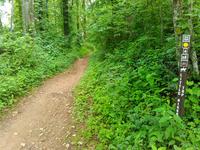 At A Glance




1.8 mi one-way
Difficulty Rating: 1.8


Steepness: Climbs Moderately


Tread Condition: Some Obstacles


Blaze Color: Yellow
Trail Number: 136

Description
Starting at Boyd Branch Road, the trail climbs through several switchbacks through logged areas. The surface is a logging road which used to be a singletrack trail historically called Sidehill, but was revived into a road around 2005 (and is now being allowed to revert back to a trail). Turns north before reaching the top of a low ridge coming off Hickory Top. Past the intersection with the remaining Sidehill trail on the left, it becomes more wet and muddy with a small stream crossing or two. Enters a nice forest below the peak of Little Hickory Top past the last logging cut but the ground is covered with poison ivy, so beware during late summer. Ends at Ingles Field Gap, or 5 points, at the junction with North Ridge Road and Ingles Field Gap trails.
This trail makes a great sustainable climb up to 5 points and can be combined with others such as Ingles Field Gap or Green's Lick for loop options. Or, makes a great downhill in the opposite direction. Moderately technical in places with a couple tricky spots near the wet areas. Fast near the bottom on the old logging road.
Intersecting Trails
This trail is located in the Bent Creek area. For a list of all the trails in that area, see the Bent Creek trails list page.
All Photos from the Trail
GPS Map
Download GPS Data
Click routes, trails, or points on the map to download them (on the GPS Data tab).
Trail Segments
Trails are often made up of several connecting paths which may have different characteristics, allowed uses, and seasons. This trail is divided into multiple segments as follows:
5 Points to Junction with Sidehill Tr.
Allowed Uses: Hiking, Mountain Biking, Horseback Riding
Length: 1.15 mi
Junction with Sidehill Tr. to Boyd Branch Rd.
Allowed Uses: Hiking, Mountain Biking, Horseback Riding
Length: 1.24 mi
Total Calculated Length: 2.4 mi
This value is derived from our underlying map data, and it may not match officially published information.
Feedback
Ratings
Average Rating: (rated 0 times)
Rate It Now:
Comments