Ingles Field Gap Trail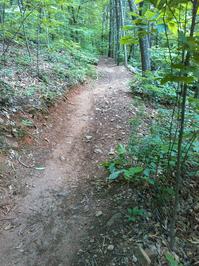 At A Glance



1.5 mi one-way
Difficulty Rating: 1.5


Steepness: Climbs Moderately


Tread Condition: Some Obstacles


Blaze Color: Blue
Trail Number: 150

Description
Some stretches are level, but has a decent overall elevation change from end to end, making for some steep places and great downhills too. Follows an old road bed on the bottom 3/4; upper 1/4 is built for trail. Recently the entire trail has been re-graded. Rocky and rooty in places but less so since the re-grading, especially just before Ingles Field Gap. Intersects the Ingles Field Connector trail. Climbs from Ledford Branch Road to Ingles Field Gap (a.k.a "The Top" or "4 Corners").
This trail is located in the Bent Creek area. For a list of all the trails in that area, see the Bent Creek trails list page.
All Photos from the Trail
GPS Map
Download GPS Data
Click routes, trails, or points on the map to download them (on the GPS Data tab).
Feedback
Ratings
Average Rating: (rated 0 times)
Rate It Now:
Comments