Hardtimes Connector Trail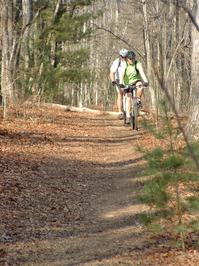 At A Glance



0.9 mi one-way
Difficulty Rating: 0.9


Steepness: Climbs Gently


Tread Condition: Some Obstacles


Blaze Color: Orange
Trail Number: 661

Description
This trail is a great warmup to the rest of your ride at Bent Creek. From the Hardtimes trailhead, a short climb is followed by a short but fantastic singletrack downhill to Bent Creek Ranch Road. Just bumpy and rocky enough to spice up the extremely fast trail. Trail crosses the road onto a new reroute and ends after a few more yards beside a long wooden bridge on the Deer Lake Lodge trail.
Intersecting Trails
This trail is located in the Bent Creek area. For a list of all the trails in that area, see the Bent Creek trails list page.
All Photos from the Trail
GPS Map
Download GPS Data
Click routes, trails, or points on the map to download them (on the GPS Data tab).
Feedback
Ratings
Average Rating: 3.3 (rated 3 times)
Rate It Now:
Comments