Boyd Branch Trail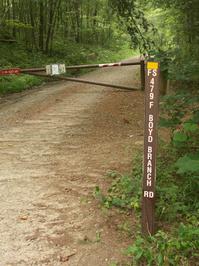 At A Glance



0.7 mi one-way
Difficulty Rating: 0.7


Steepness: Climbs Gently


Tread Condition: Few Obstacles


Blaze Color: Blue
Trail Number: 665
Rides That Use This Trail: Boyd Branch Loop

Description
Easy, hardpacked trail with an easy, armored rock creek crossing on the upper end. From Boyd Branch Road to the creek crossing, the trail has been graded and graveled, smoothing out a formerly rocky, rooty stretch. The creek crossing itself is no longer technical, with large flat stones paving either side and a hardened, gravel bottom in the crossing itself. No major elevation changes, but if you're heading downhill, this trail can be fast and very fun.
Can be combined with Boyd Branch Road to make a nice, short loop. Great for beginners who want to sample some singletrack!
This trail is located in the Bent Creek area. For a list of all the trails in that area, see the Bent Creek trails list page.
All Photos from the Trail
GPS Map
Download GPS Data
Click routes, trails, or points on the map to download them (on the GPS Data tab).
Feedback
Ratings
Average Rating: (rated 0 times)
Rate It Now:
Comments