National Geographic Trails Illustrated Maps
Where available, these maps are typically one of the best options mountain bikers have for a map to bring along on the trail.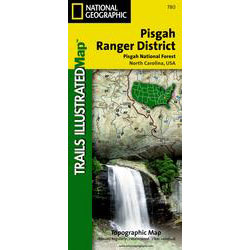 Features include:
Printed on tear-resistant, waterproof material.
Folds into a convenient size for packing.
Topographic data similiar to USGS quads.
Updated with current trails and other features.
Trails are easily identified by uses - hiking, biking, horseback riding, skiing.
Many other points of interest are easily identified.
Show the borders between public and private land for cross-country travel.
There aren't maps available in this series for all of the trails in WNC, but the line is expanding and covers a good portion of region. There are maps for the areas shown below. Click on a map below to be taken directly to the Blue Ridge Parkway Foundation's online store where you can buy a map directly!
To get one more quickly, visit one of Western NC's fine outdoor and map retailers including most area bike shops. Click here to find one!