Laurel Mountain Ride
This is a long loop ride in a remote, scenic forest and mountain area, with a gradual but technical, fun singletrack climb. It also features a very steep uphill section. The ride has a high elevation change and goes through high elevation environments. There are steep, rocky switchbacks on the way back down a 2.5 mile, 1600 vertical foot, very technical uninterrupted downhill. The ride finishes up with some scenic gravel road cruising and climbing.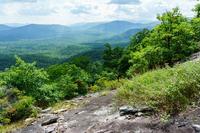 At A Glance

14 mi round-trip
Difficulty Rating: 20.52


Tread Condition: Moderately Rough


Climb: Climbs Moderately


Climb Total: 2400 ft
Configuration: Loop comprised of singletrack and a gravel road.
Starting Point: Parking area just past Yellow Gap on FR 1206.

Trails Used: Laurel Mountain, Laurel Mountain Connector, Pilot Rock
Directions
From Asheville, take I-240 west to I-26 east. Take the Asheville Airport exit; go south (right) on NC 280. Just past the intersection with NC 191, make a right at the stoplight onto North Mills River Road and follow the signs to the North Mills River Campground. The road turns gravel here, and the Laurel Mountain trailhead is 3.5 miles past the campground, just over the gap. Park here.
Details
Ride Description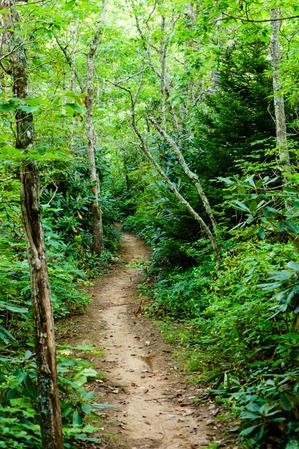 Start the ride by heading up the Laurel Mountain trail. This 2000 ft. vertical climb begins as a sidehill trail along the steep slopes of Black Mountain, an extension of Laurel Mountain's main ridge. There are a few very technical spots, with areas of rocks and roots all the way up - including an off-camber stretch of bedrock that is normally slimy and wet - but for the most part it's a steady, gradual climb on singletrack that becomes increasingly dry as you climb.
The trail veers from ridgetop to mountainside as it winds its way to the west, also passing through several gaps, and in general it gets a little steeper after each one. The forest is mostly mixed hardwoods with an understory of laurels and rhododendrons. Watch for yellowjackets: they seem to like the sunny, warm south side of Laurel Mountain and nest in bare soil on or near the trail.
The trail passes by a neat rock cave on the right, at which point there is also a good wintertime view on the left. Portions of the trail just beyond the cave are level and hardpacked with mossy berms on each side - a particularly fun stretch of the climb.
At the fern-filled and amusingly named Good Enough Gap, there is an unofficial connector trail dropping off to the left that leads down to the Pilot Cove/Slate Rock trail. Keep right; next up is an incredibly steep uphill section that will probably make even the best of us get off and push. After achieving the ridge once again, the trail will go downhill some, into the grassy, open woods at Turkey Spring Gap. A fantastic campsite is off the trail to the right.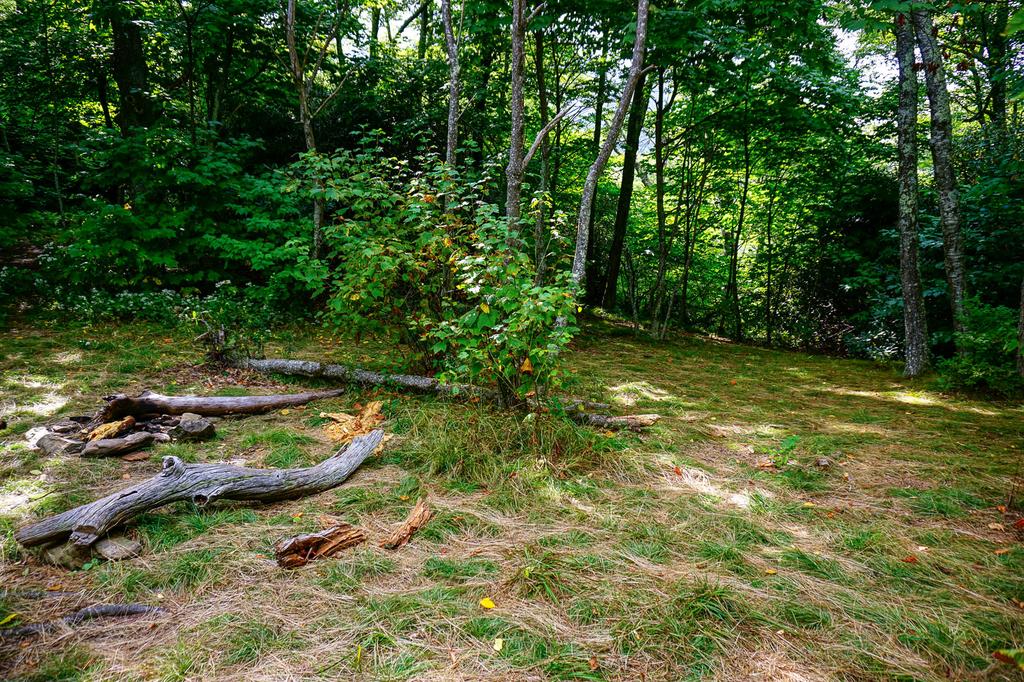 Take a left onto the Laurel Mountain Connector trail, which continues uphill on a short but rough climb. The end of this trail - and junction with the Pilot Rock trail - marks the highest point on the ride, with an elevation of about 4880 ft. Make a left here onto a relatively level stretch of trail.
Check your brakes, because now you begin a two and a half mile, 1600 ft. vertical descent - the highlight of this ride, and in fact much of Pisgah! It begins innocently enough, and stays on the ridge line for a while at first, passing through the stunted growth of twisted mountain laurel, out into open areas, and through open sections of forest. But it gradually becomes rougher as you descend through a few twists and turns.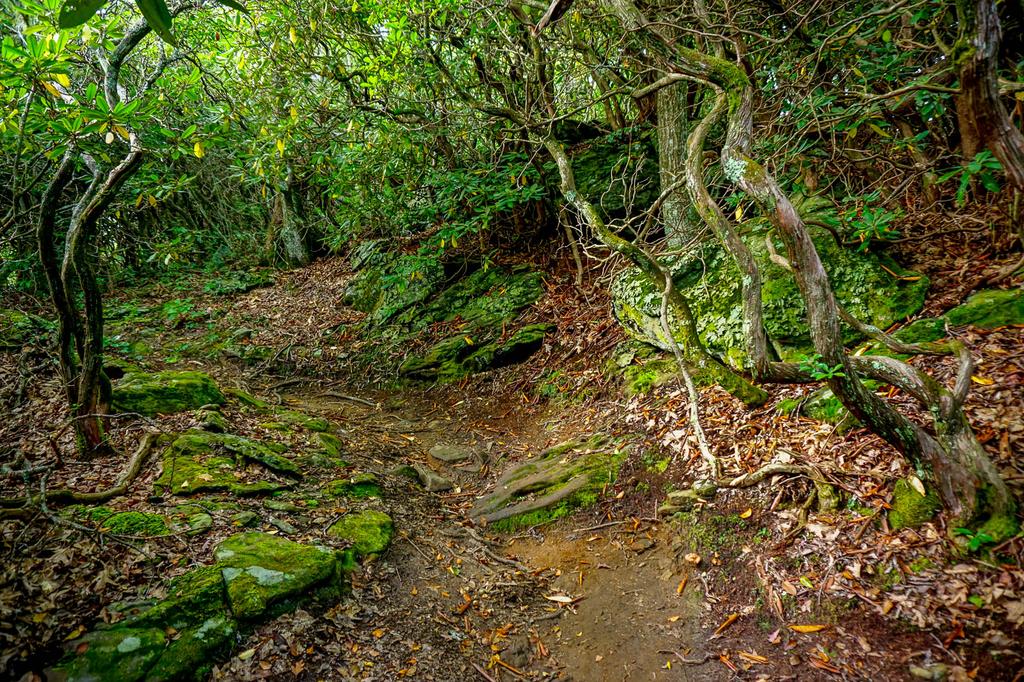 As you pass above Slate Rock Ridge and start descending toward Pilot Rock itself, the trail becomes very rocky and steep. You'll pass a rock outcrop on the left out of which the trail was carved, with numerous sharp switchbacks constructed from local stone beyond. Although a few sections will allow you to build up a bit of speed, this segment is largely a skills test.
Boasting incredible views, the trail passes right above huge rock outcroppings and cliffs on its violently bumpy journey down to the valley far below. If you do stop for a view, it's quite a reward.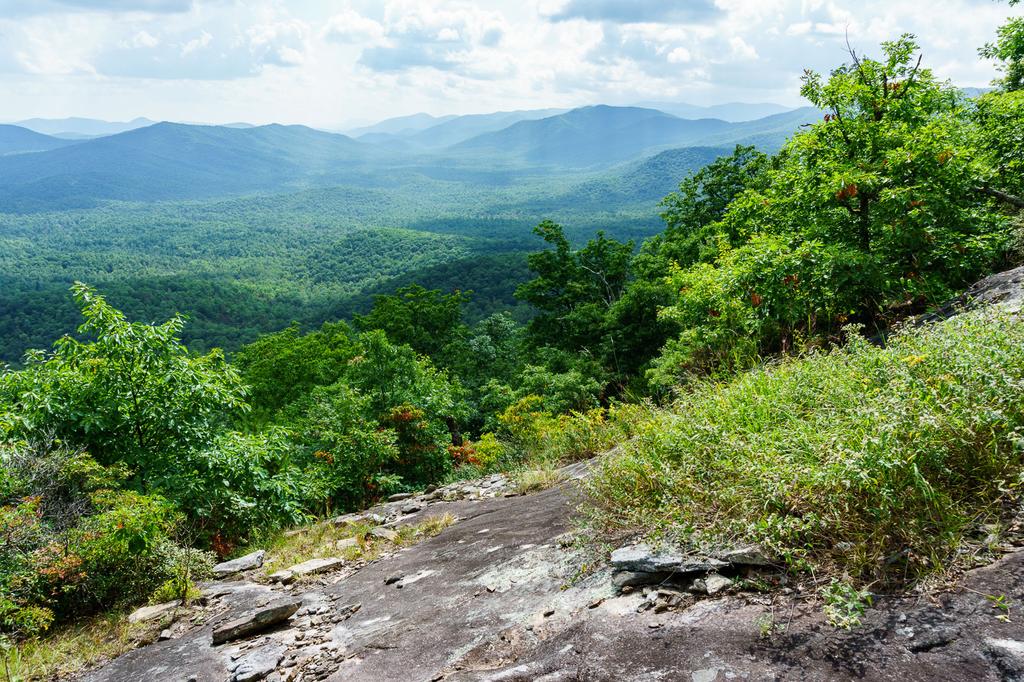 Below the switchbacks, the trail passes through a notorious "rock garden", with huge boulders and big rocks piled everywhere right on the trail. This is, geologically speaking, a "block field," composed of boulders that have broken free and rolled down from the mountainside above due to freeze-thaw forces.
I've cleaned it exactly once in my lifetime; that was good enough for my ego and I have no shame in putting my foot down a time or two nowadays. (With a modern full suspension rig you could probably sleep through it, but I don't own one, so I don't know. Then again, the garden has been "dumbed down" by some well-meaning trail maintainers in recent years, too.) Past the rock garden, the trail gets a little less stony, but remains moderately rough.
Near the bottom of the downhill, the trail will cross an old logging road and pick back up with some more moderately technical tread. Then you'll cross the upper reaches of Bradley Creek on a small log bridge, and reach the intersection with FS 1206. Make a left here and follow this gravel road all the way back to your car.
This gravel road is scenic, fast, and fun as it follows Bradley Creek downstream. Watch for vehicles. The road breaks away from Bradley Creek and follows a tributary, Yellow Gap Creek, upstream for a moderate climb. There have been landslides in this area, making some impressive scars in the mountainside to your left. This climb will bring you back to the trailhead and starting point.
Ride Addition: Along FS 1206, you'll pass by the Pilot Cove/Slate Rock trailhead. If you have the energy, take a left on this "inner loop", which goes up beside the creek through fern-filled woods. Bear right onto the Pilot Cove Loop to climb the ridge for more spectacular views from Slate Rock. (There is nothing really special along the Pilot Cove/Slate Rock trail between the two ends of Pilot Cove Loop trail). Turn right when you get back to the Pilot Cove/Slate Rock trail and ride back downhill on a beautiful trail to FS 1206. Turn left and complete the ride as described above. This adds several miles and over 800 ft. of climbing to the ride.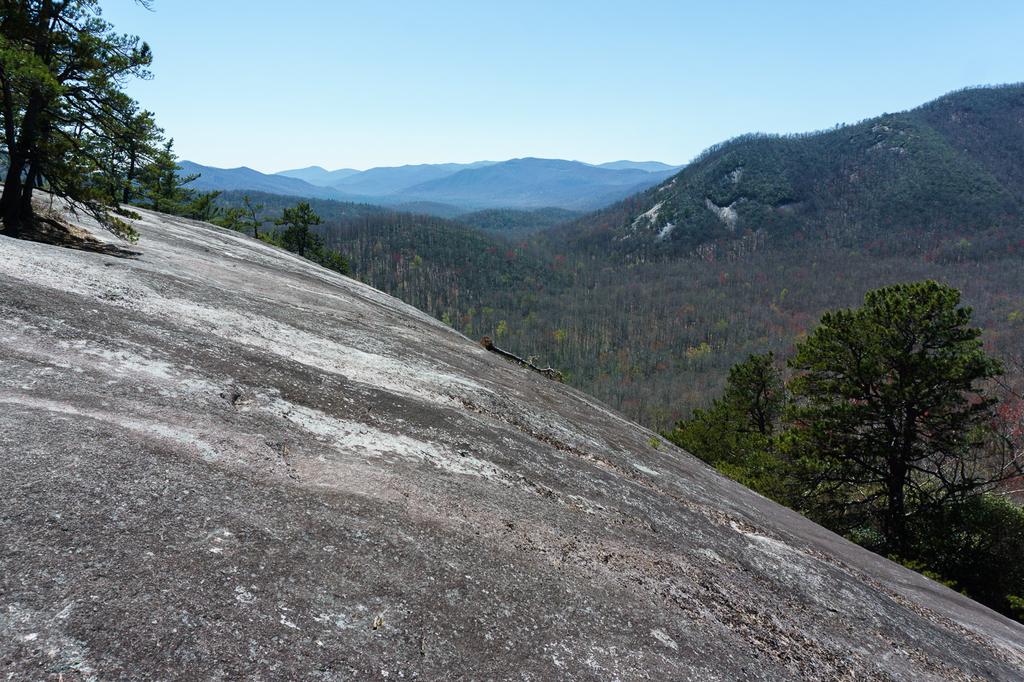 Ride Landmarks
| Mile | Directions |
| --- | --- |
| Start | Ride uphill on the signed Laurel Mountain trail. The next 6.9 miles are uphill. |
| 2.6 | Rich Gap. Huge log across the trail. A faint trail goes right; continue straight. |
| 3.8 | Trail passes rock cave. |
| 5.4 | Good Enough Gap. Trail comes in from the left; continue straight and uphill on the Laurel Mountain trail. A very steep section follows. |
| 6.5 | Unsigned intersection with Laurel Mountain Connector trail. Turn left. |
| 6.9 | Signed intersection with the Pilot Rock trail. Turn left; the next 2 1/2 miles are downhill. |
| 9.5 | Cross old logging road. |
| 9.6 | Log bridge and intersection with FR 1206. Turn left. |
| 14.0 | Finish; back at trailhead parking area. |
Map
Green highlight indicates the route to follow within the trail network for this ride.
Tip: Printing this map? You can pan and zoom the map as desired before printing to show the area you need.
Map Information
Download GPS Data
Click on a route, trail, or point on the map and select the GPS Data tab to download its data.
Data Formats
KML (Google Earth)
KML is the main file type used by Google Earth. If you have Google Earth installed, clicking the KML link should open the trail or point directly in Google Earth for viewing. This is the native file format used by Google Earth, but many other map applications can use and understand KML as well, so if you're not sure which one to download, KML is a good bet.
GPX
The GPX format stands for GPS Exchange - a free, open, XML format for exchanging GPS and map data. GPX is compatible with Google Earth, many other mapping programs, and most GPS devices (such as Garmin). Load the file directly into your GPS to help find your way on your next trip!
GeoJSON
GeoJSON is a newer, lightweight data exchange format which can be used to quickly share map data and may have a smaller size than KML or GPX. Many professional mapping and GIS applications support the GeoJSON format.
About the Map
Copyright
Base Layers
Base layers provided by OpenStreetMap, the US Geological Survey, the US Forest Service, and NC OneMap. Base layer images are subject to the respective copyright policies of their owners. Base layers may not be available at all times due to system maintenance or outages.
WNCOutdoors Base Layer
The WNCOutdoors Base layer is provided by WNCOutdoors.info. It is licensed by Creative Commons Attribution 3.0.
Trail and Marker Overlays
Trail layers and downloadable data are all original works created by WNCOutdoors with guidance from a variety of sources, including ensembles of our own GPS tracks, user contributed GPS tracks, official maps and GIS data from government agencies, and field observations. WNCOutdoors data is made freely available under the Open Database License - you are free to copy and use it for any purpose under the terms of that license (summary).
Tips
Hover over a trail to see it highlighted. Helps to see start and end points for an individual trail.
Scroll and zoom the map before printing, and that view will persist into the printed image.
Click a trail for more details and to download it individually.