Daniel Ridge Ride
This classic loop in the Davidson River area traverses the core of a scenic area packed with natural features. As the ride goes, it's moderate: not too steep, but somewhat rocky and plenty of roots along with eroded spots for most of its length to spice things up. The only thing not moderate is how much fun it is to ride! Includes scenic streams with many cascades, stream crossings, beautiful open forest, stretches of delicious singletrack, wintertime views, log bridges, and rhododendron tunnels. To top it all off, you can ride right up to a 160-foot waterfall near the end of the ride.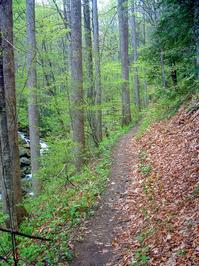 At A Glance

4 mi round-trip
Difficulty Rating: 6.07


Tread Condition: Moderately Rough


Climb: Climbs Moderately


Climb Total: 800 ft
Configuration: Loop with very short out-and-back
Starting Point: Trailhead parking area along FR 475, near the Pisgah Fish Hatchery

Trails Used: Daniel Ridge Loop
Directions
From Asheville, take I-240 west to I-26 east to the exit for the Asheville Airport (exit 9). Turn right onto NC 280; follow this 4-lane highway toward Brevard for 16 miles. At the intersection with US highways 276 and 64, turn right onto US 276 west (follow signs for Pisgah National Forest). Follow this road for 5.2 miles; turn left onto FR 475 (signs for the fish hatchery will be seen). The fish hatchery is 1.4 miles past the turn, then FR 475 turns to gravel. The parking area is 2.5 miles beyond where the road turns gravel, on the right.
Details
Ride Description
Begin the ride on the gravel forest road leading out of the back of the parking area - FS 137, Davidson River Road. You'll almost immediately cross over the pristine Davidson River on a brand-new, steel and wood arch bridge. You will then reach a split in the road and the sign for the Daniel Ridge Loop trail. Turn left.
The better-maintained Lanning Ridge Road (FS 5046) was the main road leading to the right, but the route you are now on - more like a doubletrack trail than a gravel road - is actually the continuation of Davidson River Road, if the Forest Service database is correct. It follows a level course upstream along the Davidson River, deep into the valley. There are several nice pools and cascades in the river, which is really more like a fat creek at this point. You will pass the old "fish rearing station," as shown on the USGS topo maps. It's neat, but probably not worth stopping for.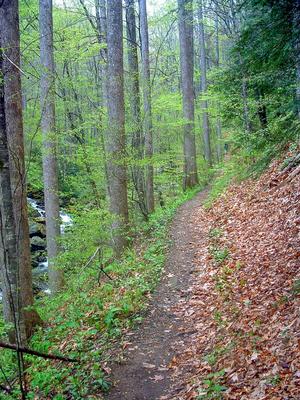 The road gradually deteriorates, getting rockier and a little steeper, and higher up the hillside. One section navigates through a tricky area near a stream drainage and metal pipe. Look for tree trunks growing nearly parallel to the ground and then turning upwards - a near sure-sign of slow downhill slope creep, as is happening here.
The road will drop off abruptly into an open chasm at a dilapidated old stone and log bridge. Historically, it continued on the other side, but our trail turns right, leaving the road bed behind. It also starts steeply uphill and becomes rocky and moderately technical. It follows the Right Fork upstream, and there are more cascades to be found along this stream.
There are places where the trail is quite narrow as it clings to the steep mountainside, with a near-vertical drop to the boulder-strewn stream below to your left. Large, straight trees line each side of beautiful singletrack trail. In other places, the trail climbs further away from the stream through some erosion gullies. A few segments are wet and muddy.
You'll reach a set of log steps, and the intersection with the Farlow Gap trail on the left. The Daniel Ridge trail makes a sharp right to begin following an old logging roadbed. A couple of small stream crossings later, the trail leaves the old roadbed and heads left, uphill. This is another fairly steep uphill and there are a couple of switchbacks. The woods become open and grassy; tall, straight poplars and beeches grow on either side; there are some wintertime views of the surrounding mountains. It's a scenic, but steady, climb.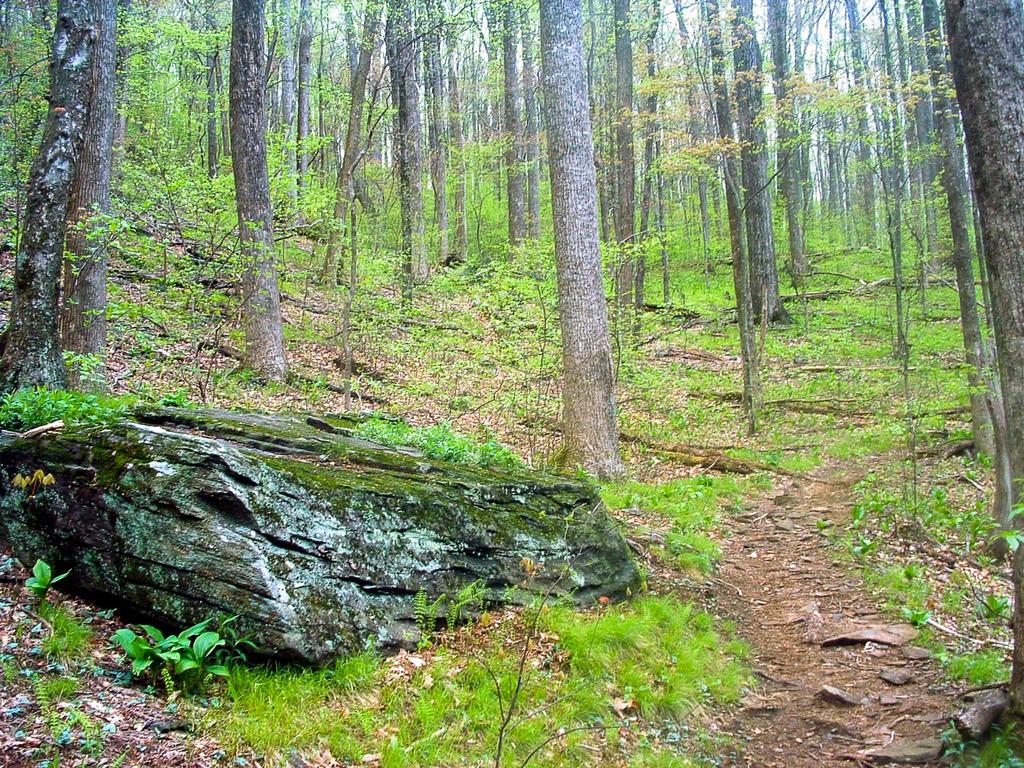 The trail will pass through a high saddle, which marks the highest point on the ride (elevation 3400'). It's surrounded by a beautiful forest, with tall oaks, poplars, beeches, and hemlocks (eastern and a few of the Carolina variety). Several out-of-place red spruce saplings also grow here, as well as the standard mountain laurel and rhododendron. The trail will then begin the fun downhill, which is pretty rocky in spots and moderately steep. There are some large water turnouts which make great jumps.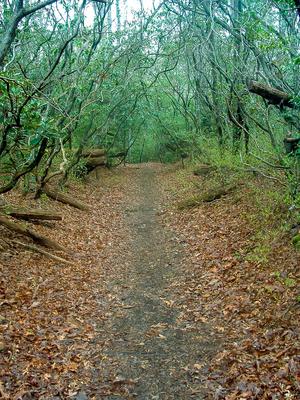 You'll pass through some wildlife openings and cross a small stream which flows across solid rock. It can be a slick crossing. Past a logging road, the trail winds through a relatively high and flat cove. It passes through tunnels of twisted mountain laurel and crosses several small streams on log bridges, several of which are well-designed and can be ridden. The singletrack becomes narrow and twisty.
The trail then crosses and begins to follow the main stream (Tom Springs Branch) out of this flat area, and then it passes right by the very top of 160' Toms Spring Falls (also called Daniel Ridge Falls or Jackson Falls). It curves right for one last great downhill, sporting one switchback, as it loses the height of the falls in elevation. Then a small set of log steps will put you on FS 5046.
To get to the base of the falls, go left a few yards on the road and take the scramble path leading uphill. This waterfall spreads over a granite dome, then splits into several showery freefalls and rock-hugging slides before finally cascading down the rest of the mountainside. It's worth a stop.
The ride continues right on Lanning Ridge Road, back downhill. It's a short but smooth, fast, and fun stretch with some nice turns back to the intersection with Davidson River Road. Bear left to close out the loop, cross the bridge again, and keep straight to reach the parking lot. The cold, deep, clear swimming hole to the left of the bridge will be quite inviting on a hot summer day!
Many people like to combine this trail with others in the immediate area for a longer outing. Try adding the Cove Creek loop, or the Butter Gap/Long Branch (Picklesimer Fields) loop if it's between April 15th and October 15th (or both!)
All Photos from This Ride
Ride Landmarks
| Mile | Directions |
| --- | --- |
| Start | Ride out of the back of the parking lot, around the gate, onto the gravel road. Cross the rather substantial wood and steel bridge over the Davidson River soon afterwards. |
| 0.1 | Turn left onto the signed Daniel Ridge Loop trail. Follow red blazes from here on out. |
| 0.6 | Bear right at the fork in the trail. |
| 1.3 | Roadbed continues across old log bridge. Turn right, uphill (red blazes). |
| 1.6 | Intersection with Farlow Gap trail. Turn right. |
| 2.5 | Ride straight across the logging road. |
| 3.2 | Top of the falls. Trail curves right to descend to the base. |
| 3.6 | Intersection with FR 5046. Turn left to go to the base of the falls. Turn right to head back to your vehicle. |
| 4.0 | Turn left onto FR 137. |
| 4.1 | Finish; back at parking lot. |
Map
Green highlight indicates the route to follow within the trail network for this ride.
Tip: Printing this map? You can pan and zoom the map as desired before printing to show the area you need.
Map Information
Download GPS Data
Click on a route, trail, or point on the map and select the GPS Data tab to download its data.
Data Formats
KML (Google Earth)
KML is the main file type used by Google Earth. If you have Google Earth installed, clicking the KML link should open the trail or point directly in Google Earth for viewing. This is the native file format used by Google Earth, but many other map applications can use and understand KML as well, so if you're not sure which one to download, KML is a good bet.
GPX
The GPX format stands for GPS Exchange - a free, open, XML format for exchanging GPS and map data. GPX is compatible with Google Earth, many other mapping programs, and most GPS devices (such as Garmin). Load the file directly into your GPS to help find your way on your next trip!
GeoJSON
GeoJSON is a newer, lightweight data exchange format which can be used to quickly share map data and may have a smaller size than KML or GPX. Many professional mapping and GIS applications support the GeoJSON format.
About the Map
Copyright
Base Layers
Base layers provided by OpenStreetMap, the US Geological Survey, the US Forest Service, and NC OneMap. Base layer images are subject to the respective copyright policies of their owners. Base layers may not be available at all times due to system maintenance or outages.
WNCOutdoors Base Layer
The WNCOutdoors Base layer is provided by WNCOutdoors.info. It is licensed by Creative Commons Attribution 3.0.
Trail and Marker Overlays
Trail layers and downloadable data are all original works created by WNCOutdoors with guidance from a variety of sources, including ensembles of our own GPS tracks, user contributed GPS tracks, official maps and GIS data from government agencies, and field observations. WNCOutdoors data is made freely available under the Open Database License - you are free to copy and use it for any purpose under the terms of that license (summary).
Tips
Hover over a trail to see it highlighted. Helps to see start and end points for an individual trail.
Scroll and zoom the map before printing, and that view will persist into the printed image.
Click a trail for more details and to download it individually.