Black Mountain Ride
Also known as "Clawhammer," this hard-core ride contains a 7 1/2 mile, 2000 vertical foot climb. Starts on a technical creekside trail with at least 6 deep creek crossings, and includes the scenic Twin Falls side hike, a moderately technical climb to Buckhorn Gap, incredible views, a very remote and rugged ridgeline trail (beyond technical), a rock cave, rock outcroppings and boulders. Crosses Clawhammer and Black Mountains' summits, then there's a very fast, technical, 1900 vertical foot, 4-mile downhill.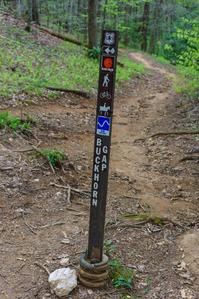 At A Glance

12.5 mi round-trip
Difficulty Rating: 18.84


Tread Condition: Very Rough


Climb: Climbs Steeply


Climb Total: 2000 ft
Configuration: Loop on singletrack, doubletrack becoming singletrack, and gravel roads
Starting Point: Horse stables on FS 477

Trails Used: Avery Creek, Black Mountain, Buckhorn Gap
Directions
From Asheville, take I-240 west to I-26 east to the exit for the Asheville Airport (exit 9). Turn right onto NC 280; follow this 4-lane highway for 16 miles toward Brevard. At the intersection with US highways 276 and 64, turn right onto US 276 west (follow signs for Pisgah National Forest). Next, turn right onto gravel FS 477; you will see signs for the Riding Stables. Park at the stables.
Details
Ride Description
Ride back out of the stables and uphill on FR 477 (the road you drove in on). This becomes a moderate climb. When you emerge under the high tension power line right of way, you know you are approaching the upcoming right turn onto the Buckhorn Gap trail. It's located at the parking pulloff almost immediately under the power lines.
You'll loosely follow this trail all the way up to the eponymous gap itself. This trail starts off downhill, with some great jumps, and then levels off. Some spots are muddy. You will pass a small but beautiful waterfall, far below the trail on the right. The trail will then meet up with the stream and the Avery Creek trail.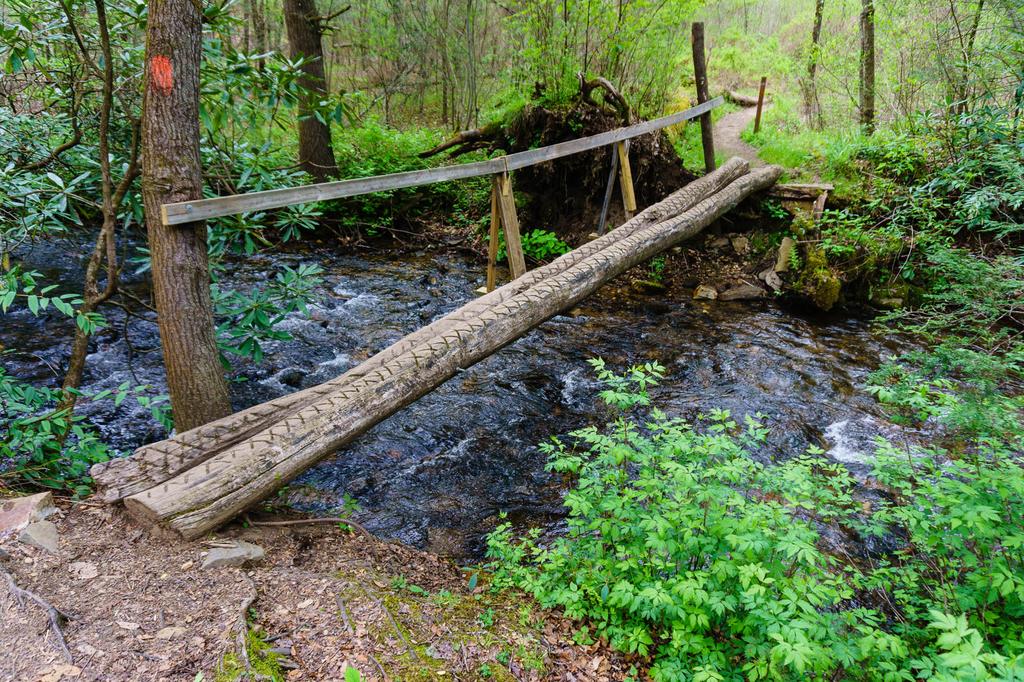 Here, you can either ford the creek and pick up the Buckhorn Gap trail again heading upstream on the other side, or take the trail upstream a few hundred feet and cross on a narrow log bridge. (That section of trail is pretty gnarly, so it'll probably be a push.) You should then be heading upstream on the northeast side of the creek, on the Buckhorn Gap trail.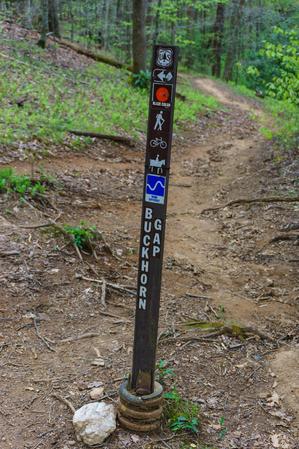 The trail will again intersect the creek. There used to be a sign, brandishing an arrow and the text "To Buckhorn Gap" nailed to a tree here - pointing directly up the stream bed. Since that's not the best way to get there, either ford the creek again here or go up and around an enormous hemlock tree to the right and take the narrow log bridge just upstream.
There will be 4 more large creek crossings on this trail. Just like the first two, each one has both a place to ford the creek and a log bridge. In between crossings, the trail is a typical streamside grunt. It's quite technical: it's rooty, rocky, and muddy in spots. It's also badly eroded from horses' hooves. But the scenery is nice, with lush forest scenes (besides all the dead hemlock trees).
You will intersect the Twin Falls trail twice. The second intersection is in an open area with some hitching posts. It's hiking only, but a side trip to the falls from the second intersection is highly recommended; it is short (just a few hundred feet) and you're rewarded with a neat double waterfall at the end. Be wary of yellowjacket nests in this area.
Keep going up the Buckhorn Gap trail; it switches back to the right to begin pulling away from the creek. This section is steep, badly eroded (a shallow clay canyon), and muddy, with many waterbars, some of which have been demolished by horses' hooves. The trail will fork; confusingly, both forks are called the Buckhorn Gap trail, but the left fork is signed as closed to bikes. So you will want to bear right. This takes you on a series of old logging road beds up to Clawhammer Road (FS 5058). Turn left.
This is the road you'll follow the rest of the way to the gap. It starts out fairly level, with even a downhill section or two, but soon becomes a stiff climb. The Buckhorn Gap trail will exit right, and heads straight up to the gap, but no bikes or horses are allowed on that section. So continue straight on the tedious, hot, sunny gravel road. (Try to avoid doing this climb on a hot, sunny summer day at noon.) At the next gravel road intersection with Henry Branch Road (FS 5057), make a right to finish up the last bit of the climb up to the gap.
The top of this climb puts you in Buckhorn Gap itself, a 6 way intersection and a good place to rest before the next climb. Make a right onto the Black Mountain trail (no horses allowed!). This is steep and narrow, it switches back many times, and it has many waterbars and log steps to begin with. You will push or carry your bike a good bit from here up to the top of Black Mountain, unless you have truly awesome technical skill.

Following a knife-like ridgeline, the trail will cross over a small knob, then right over the summit of Clawhammer Mountain. It'll then dip you down into a gap between the peaks of Clawhammer and Black Mountain. Here, there is a rock slab and an incredible cliff-top view that helps make all the climbing worthwhile. The final climb up to Black Mountain from here is insanely "technical", with very steep sections, switchbacks, rock slabs, boulders, and drop offs. You will pass by a neat rock cave, then switchback straight up and go right over it. Most riders will end up walking this section.
After a few more super steep switchbacks, the trail will enter a rhododendron tunnel where you can finally get back on your bike and pass just to the west of the summit of Black Mountain (elev. 4286 ft.). After that, check your breaks and get ready for a 1900 vertical foot downhill!
This segment of the Black Mountain trail is becoming quite eroded. It's very rocky, and in places it's very steep and technical, with tons of waterbars. Unfortunately, the erosion gully is so deep and narrow that it's getting difficult to even ride. A re-route or some major work will probably be required to keep this trail open in the future.
The Turkey Pen trail will enter from the left in the midst of a fern-filled woods; keep straight on the Black Mountain trail. In Pressley Gap, you'll intersect with FS 5099; the Forest Service calls this road Turkey Creek Road but most riders I know have called it Maxwell Cove Road in the past. Either way, turn right. Now some people might scold me for suggesting that you lose elevation on a road like this; however, the road is becoming doubletrack and even singletrack in places, and some sections are very steep for a gravel road. It's extremely fast, and I personally enjoy the heck out of descending it. If you hate downhills on gravel roads, study the map for alternative routes in the area which go downhill on singletrack (see "the long way down" below).
Do beware of horses and other riders in the curves, though. There is one short but annoying uphill section along this road. At the next intersection and gate (FS 5058, Clawhammer Road again), make a left, and coast back down to the horse stables and the starting point.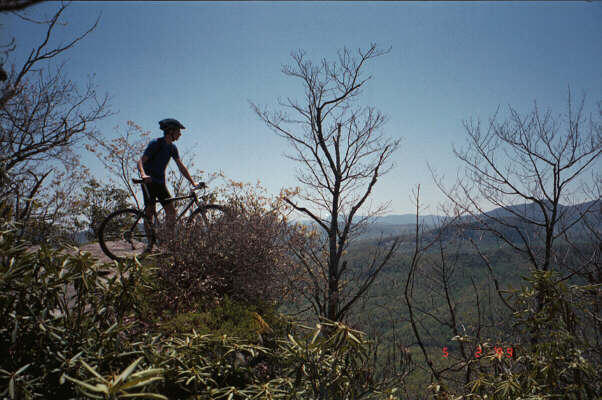 Note: a lot of people think I'm crazy to recommend climbing Buckhorn Gap and descending the gravel road. I like technical climbing, so this direction works best. Feel free to ride this in reverse if you prefer the more technical descent on Buckhorn Gap, though. Lots of people do.
The long way down: to make a longer ride with a descent entirely on singletrack, stay straight on the Black Mountain trail at Pressley Gap instead of turning right onto FS 5099. You'll have to climb a bit at first, but the trail soon resumes its downward plunge. Follow this all the way to the intersection with the Thrift Cove trail; continue straight downhill to reach US Hwy. 276. Turn right (use caution, this is a busy highway). Turn right again on FS 477 and ride back up to the horse stables to finish the ride.
The downside to this route, of course, is that you have to ride back to the stables on the highway. I detest riding on US 276 it's the main reason I suggest coming down the forest roads listed above.
I'm looking to put together another route in the Avery Creek basin which includes Twin Falls, the summit of Black Mountain, and all singletrack downhills. Now that Bennett Gap is no longer seasonal, that should be much easier. Check back soon!
All Photos from This Ride
Ride Landmarks
| Mile | Directions |
| --- | --- |
| Start | Ride uphill on FR 477 (the road you drove in on). |
| 0.6 | Avery Creek trail exits to the right. Stay on FR 477. |
| 0.8 | Parking pulloff and signed Buckhorn Gap Tr. intersection. Turn right onto this trail. |
| 1.75 | Stream crossing and intersection. Follow the Buckhorn Gap trail, which crosses Avery Creek here and continues upstream. Either ford here, or push your bike up the "trail" a few hundred feet and use the log bridge. |
| 2.1 | Ford the stream or use the log bridge just upstream again. Stay on the Buckhorn Gap trail. |
| 2.6 | Intersection with the Twin Falls trail (hiking only!). |
| 2.8 | Hitching posts and another intersection with the Twin Falls trail. The Buckhorn Gap trail switches back to the right. |
| 2.9 | Trail forks; bear left, steeply uphill, leaving the Buckhorn Gap Trail. |
| 4.0 | Grassy clearing and intersection with a gravel road. Turn left. |
| 5.25 | Buckhorn Gap trail exits the road to the right. No bikes allowed, stay on the gravel road and turn right at the next gravel road intersection. |
| 5.9 | Buckhorn Gap itself. Turn right onto the Black Mountain trail. |
| 7.1 | Gap and incredible view. |
| 7.6-7.7 | Highest point on the ride, near the summit of Black Mountain (4269'). |
| 8.8 | Pressley Gap and the intersection with Maxwell Cove gravel road. Turn right. At the next gate and intersection, turn left. |
| 12.4 | Finish; back at the horse stables. |
Map
Green highlight indicates the route to follow within the trail network for this ride.
Tip: Printing this map? You can pan and zoom the map as desired before printing to show the area you need.
Map Information
Download GPS Data
Click on a route, trail, or point on the map and select the GPS Data tab to download its data.
Data Formats
KML (Google Earth)
KML is the main file type used by Google Earth. If you have Google Earth installed, clicking the KML link should open the trail or point directly in Google Earth for viewing. This is the native file format used by Google Earth, but many other map applications can use and understand KML as well, so if you're not sure which one to download, KML is a good bet.
GPX
The GPX format stands for GPS Exchange - a free, open, XML format for exchanging GPS and map data. GPX is compatible with Google Earth, many other mapping programs, and most GPS devices (such as Garmin). Load the file directly into your GPS to help find your way on your next trip!
GeoJSON
GeoJSON is a newer, lightweight data exchange format which can be used to quickly share map data and may have a smaller size than KML or GPX. Many professional mapping and GIS applications support the GeoJSON format.
About the Map
Copyright
Base Layers
Base layers provided by OpenStreetMap, the US Geological Survey, the US Forest Service, and NC OneMap. Base layer images are subject to the respective copyright policies of their owners. Base layers may not be available at all times due to system maintenance or outages.
WNCOutdoors Base Layer
The WNCOutdoors Base layer is provided by WNCOutdoors.info. It is licensed by Creative Commons Attribution 3.0.
Trail and Marker Overlays
Trail layers and downloadable data are all original works created by WNCOutdoors with guidance from a variety of sources, including ensembles of our own GPS tracks, user contributed GPS tracks, official maps and GIS data from government agencies, and field observations. WNCOutdoors data is made freely available under the Open Database License - you are free to copy and use it for any purpose under the terms of that license (summary).
Tips
Hover over a trail to see it highlighted. Helps to see start and end points for an individual trail.
Scroll and zoom the map before printing, and that view will persist into the printed image.
Click a trail for more details and to download it individually.