Staire Creek (Big Ivy North Tour) Ride
This route takes the rider through a scenic, lush section of Pisgah National Forest with some huge trees. The ride features a steep gravel road climb, gravel road cruising, and a very steep, technical singletrack downhill. While it's a fun ride by itself, the scenery found along the way is certainly enhances it, and includes many water features: streams, cascades and waterfalls including Walker Falls. A remote, rugged area surrounds the ride, including a couple of notable rock caves.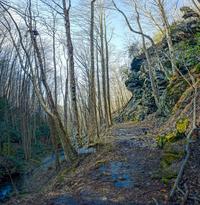 At A Glance

7.3 mi round-trip
Difficulty Rating: 11.16


Tread Condition: Moderately Rough


Climb: Climbs Moderately


Climb Total: 1500 ft
Configuration: Loop on gravel roads and singletrack
Starting Point: Corner Rock picnic area on FS 74 near Barnardsville

Trails Used: Walker Creek, Staire Creek
Directions
From Asheville, take I-240 West to US 19-23 north/I-26 West toward Weaverville. Follow this highway for just over 12 miles. Take exit 15 for NC 197, Jupiter/Barnardsville. Turn right toward Barnardsville at the end of the ramp. Follow NC 197 (a 2-lane highway) about 6 miles to the town of Barnardsville. Turn right onto Dillingham Road just past the old fire station. It's about 6 miles to the National Forest from here; stay on Dillingham Road the whole way. You will cross a few one-lane bridges, and the road will turn into gravel at FS 74; there is a sign for the Big Ivy area. Park at the picnic area, about .4 mi up this road, on the right, across a concrete bridge.
Details
Ride Description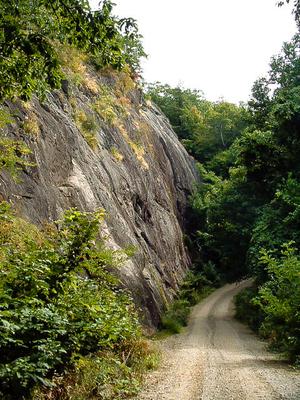 Ride out of the picnic area parking lot, cross the concrete bridge, and turn right on FS 74 to begin the ride. This starts out as a gentle climb in a northerly direction along Corner Rock Creek, passing through a beautiful cove hardwood forest. After crossing the tributary draining Sugarhouse Cove, the climb quickly becomes quite steep as it starts winding uphill on Glassmine Ridge, passing an old mine site on the left. Some of the trees growing here are enormous.
About 1.8 miles from the start, the road makes a right-hand curve back to the south and levels out (::ahhh::), crosses Corner Rock Creek, and resume the climb up the opposite valley wall (::groan::) through more lush, second growth forest. In the fall, this forest becomes a tunnel of color. The road will round the ridge and pass into a cove to cross Little Andy Creek, where there is a small cascade. The climb moderates some here about 2 miles from the start, allowing you to catch your breath and more easily enjoy the lush forest setting that surround you.
After rounding Big Andy Ridge, you'll encounter a fast downhill-trending section of the road. At the bottom of this downhill is a huge cliff face on the left, called Snake's Den Rock, which is a popular rock climbing spot. A good view of Walker Ridge across Walker Creek opens up to the right here as well.
Resuming a moderate climb, you will begin to hear Walker Branch roaring below you in the cove. Appearing to the left as you catch up with the stream just under 4 miles from the start is Walker Falls, a cascading slide. The road goes right past the base of the falls, which are most impressive after wet weather but attractive anytime. 0.1 mile past Walker Falls, there is another small cascade on the left. Climbing gently, the road will go around Walker Ridge next. An easy slight uphill ride from the nose of the ridge will take you to the signed intersection with the Staire Creek trail on the right. Turn right here, uphill to start, riding through an overgrown clearing and onto the trail leading downhill back into the woods.
Check your brakes (seriously!), because this trail will drop you 1,200 vertical feet in just a little over a mile. It is very steep and technical. At the bottom of the steepest part of the descent, you'll cross a small tributary, and then the trail will pass by a huge rock cave on the right. It then switches back twice down onto an old road bed, and starts following Staire Branch downstream. Staire Branch is scenic with several nice cascades, but it's hard to notice when you're paying attention to this downhill section of trail.
The steepness moderates some, but the trail becomes quite rocky as it follows the stream downhill. At one point, the rushing water on the left can be heard in stereo as it bounces off another impressive rock face which appears to the right. A little over a mile from FS 74, you'll reach the intersection with the Walker Creek trail. Continue straight ahead, downhill.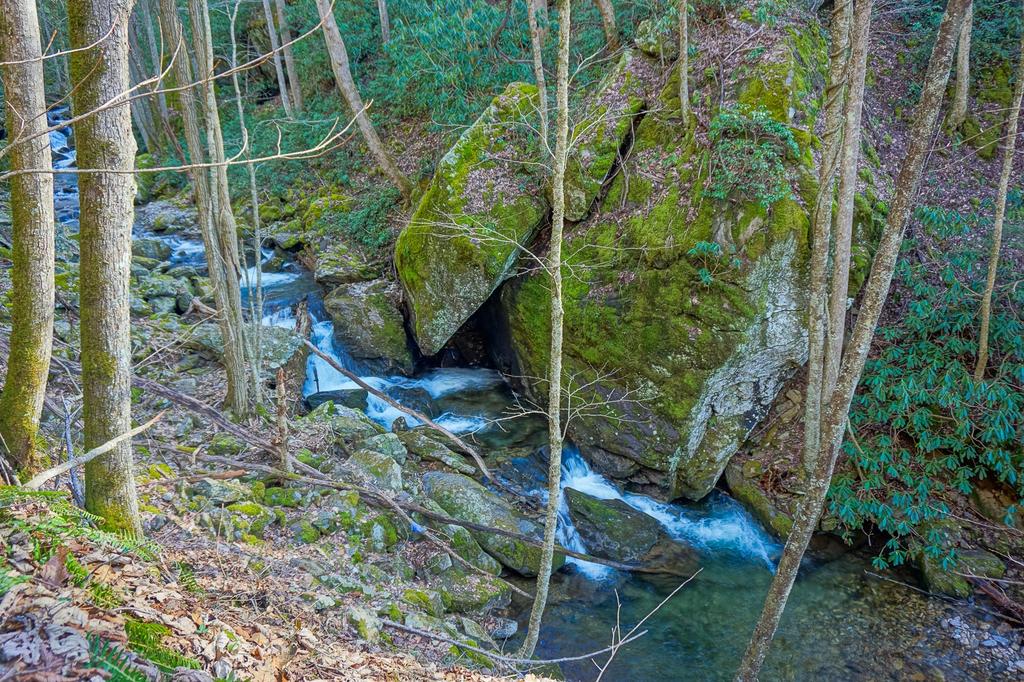 The grade moderates considerably beyond the junction, but the trail becomes a lot muddier at the same time. Next, you'll cross Walker Creek - it may be difficult to keep your feet dry here during wet weather. You will then reach the end of the Walker Creek trail, and FS 231. Turn right.
Follow this gravel road back to the picnic area and your vehicle to finish the ride.
All Photos from This Ride
Ride Landmarks
| Mile | Directions |
| --- | --- |
| Start | Ride out of the parking lot, turn right, and turn right again on FR 74 to begin riding uphill. |
| 1.8 | Road flattens, curves and crosses Corner Rock Creek, then resumes the climb. |
| 3.2 | FR 74 begins downhill after going around Big Andy Ridge. |
| 3.6 | Bottom of downhill; Snake's Den Rock is on the left. Road resumes climbing. |
| 3.9 | Walker Falls is on the left. |
| 4.6 | Road curves around the crest of Walker Ridge and becomes more level. |
| 5.2 | Intersection with Staire Creek trail. Turn right and ride through the grassy clearing to begin the long, steep downhill. |
| 5.9 | Middle of a steep downhill. Trail passes a large rock cave on the right. |
| 6.3 | Intersection with the Walker Creek trail. Turn left. |
| 6.6 | Crossing of Walker Creek; may require getting wet if the water is up. |
| 6.9 | End of Walker Creek trail. Turn right on the gravel road. |
| 7.3 | Finish; turn right into the picnic area parking lot. |
Map
Green highlight indicates the route to follow within the trail network for this ride.
Tip: Printing this map? You can pan and zoom the map as desired before printing to show the area you need.
Map Information
Download GPS Data
Click on a route, trail, or point on the map and select the GPS Data tab to download its data.
Data Formats
KML (Google Earth)
KML is the main file type used by Google Earth. If you have Google Earth installed, clicking the KML link should open the trail or point directly in Google Earth for viewing. This is the native file format used by Google Earth, but many other map applications can use and understand KML as well, so if you're not sure which one to download, KML is a good bet.
GPX
The GPX format stands for GPS Exchange - a free, open, XML format for exchanging GPS and map data. GPX is compatible with Google Earth, many other mapping programs, and most GPS devices (such as Garmin). Load the file directly into your GPS to help find your way on your next trip!
GeoJSON
GeoJSON is a newer, lightweight data exchange format which can be used to quickly share map data and may have a smaller size than KML or GPX. Many professional mapping and GIS applications support the GeoJSON format.
About the Map
Copyright
Base Layers
Base layers provided by OpenStreetMap, the US Geological Survey, the US Forest Service, and NC OneMap. Base layer images are subject to the respective copyright policies of their owners. Base layers may not be available at all times due to system maintenance or outages.
WNCOutdoors Base Layer
The WNCOutdoors Base layer is provided by WNCOutdoors.info. It is licensed by Creative Commons Attribution 3.0.
Trail and Marker Overlays
Trail layers and downloadable data are all original works created by WNCOutdoors with guidance from a variety of sources, including ensembles of our own GPS tracks, user contributed GPS tracks, official maps and GIS data from government agencies, and field observations. WNCOutdoors data is made freely available under the Open Database License - you are free to copy and use it for any purpose under the terms of that license (summary).
Tips
Hover over a trail to see it highlighted. Helps to see start and end points for an individual trail.
Scroll and zoom the map before printing, and that view will persist into the printed image.
Click a trail for more details and to download it individually.