Boyd Branch Loop Ride
An easy, fun ride suitable for families, children, and even first-time mountain bikers. Consists of an easy climb on a wide gravel road followed by a fun, gradual descent on a nice singletrack trail with one creek crossing thrown in for good measure. Also great in addition to other trails and rides in Bent Creek.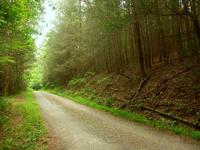 At A Glance

1.75 mi round-trip
Difficulty Rating: 2.16


Tread Condition: Few Obstacles


Climb: Climbs Gently


Lowest Elevation: 2180 ft
Highest Elevation: 2370 ft
Climb Total: 190 ft
Configuration: Loop
Starting Point: Parking area at intersection of Bent Creek Gap and Boyd Branch Roads.

Trails Used: Boyd Branch
Directions
From Asheville, take I-240 west to I-26 east and get off at Exit 33, NC Hwy 191/Brevard Road. Turn left toward the Biltmore Square Mall. Go 2 miles on NC 191 and turn right at the stoplight onto Bent Creek Ranch Road, following the brown signs toward the Lake Powhatan Recreation Area. Bear left at fork after 0.2 mi. You'll reach the Hardtimes Trailhead parking 2.2 miles from 191. About 0.2 mi. past the Hardtimes Trailhead, turn right onto Bent Creek Gap Road; it becomes gravel shortly. Follow this for 1.2 miles, up the hill and down the other side to the bottom, where there is a parking area (information signs will be on the left and a gated gravel road will be on the right). Park here.
Details
Ride Description
If this is your first time mountain biking, you've chosen a great trail on which to get started! Take it easy, and get a feel for the bike and the trail - don't try to push yourself too hard or ride anything you don't feel comfortable with. There are always more trails in the forest if you find yourself wanting more after this ride. And of course, have fun!
Start the ride by heading around the gate, uphill, onto the gravel road (Boyd Branch Road). The road goes gently uphill through some nice woods alongside Boyd Branch creek. Look for a dark grove of hemlocks on your left, which are struggling to survive after being attacked by the Hemlock Wooly Adelgid. Some of the hemlocks seem to be putting on new growth as of 2007, though. Only more time will tell if they be able to survive the attack.
The gravel road you are on will become only slightly steeper as you go. The Sidehill trail (another gravel road now) will enter from the left; keep straight on Boyd Branch road. You will end up in a small grassy clearing, which is the highest point on this ride. Here, turn right onto the Boyd Branch trail, a singletrack trail leading downhill into the woods. The first section used to be rocky, but during the summer of 2006 was graded and smoothed over with gravel. You will soon come to Boyd Branch creek, which you will cross.
This crossing used to be somewhat rocky and "technical", but it too was smoothed out somewhat during the recent trail projects at Bent Creek. A series of small steps leads down to the stream which is nicely "paved" on either side with large, flat stones. You should be able to ride it if you're careful. The creek itself has a clean, smooth gravel bottom.
After the creek crossing, the trail will level out for the most part, but continue slightly downhill. The trail surface is smooth, hard packed red clay, which gave the trail its former unofficial name of "Red Dirt". The trail will come to a short uphill section, then start back down. Nearing the end, it crosses over a large lump of dirt, and ends at Bent Creek Gap Road.
Turn right and coast downhill on this loose gravel road back to your vehicle and the end of this ride.
Longer options: If you are comfortable on the above loop and ready for more, that's great! Continue to explore the trails at Bent Creek from where you're parked - a suggestion would be to take the Campground Connector trail toward the lake and then ride around it via the Homestead trail (all are signed). Adding an out-and-back or loop around the Pine Tree Loop trail would start to move the ride from "easy" toward "moderate", and all the rest of the great riding WNC has to offer.
All Photos from This Ride
Map
Green highlight indicates the route to follow within the trail network for this ride.
Tip: Printing this map? You can pan and zoom the map as desired before printing to show the area you need.
Map Information
Download GPS Data
Click on a route, trail, or point on the map and select the GPS Data tab to download its data.
Data Formats
KML (Google Earth)
KML is the main file type used by Google Earth. If you have Google Earth installed, clicking the KML link should open the trail or point directly in Google Earth for viewing. This is the native file format used by Google Earth, but many other map applications can use and understand KML as well, so if you're not sure which one to download, KML is a good bet.
GPX
The GPX format stands for GPS Exchange - a free, open, XML format for exchanging GPS and map data. GPX is compatible with Google Earth, many other mapping programs, and most GPS devices (such as Garmin). Load the file directly into your GPS to help find your way on your next trip!
GeoJSON
GeoJSON is a newer, lightweight data exchange format which can be used to quickly share map data and may have a smaller size than KML or GPX. Many professional mapping and GIS applications support the GeoJSON format.
About the Map
Copyright
Base Layers
Base layers provided by OpenStreetMap, the US Geological Survey, the US Forest Service, and NC OneMap. Base layer images are subject to the respective copyright policies of their owners. Base layers may not be available at all times due to system maintenance or outages.
WNCOutdoors Base Layer
The WNCOutdoors Base layer is provided by WNCOutdoors.info. It is licensed by Creative Commons Attribution 3.0.
Trail and Marker Overlays
Trail layers and downloadable data are all original works created by WNCOutdoors with guidance from a variety of sources, including ensembles of our own GPS tracks, user contributed GPS tracks, official maps and GIS data from government agencies, and field observations. WNCOutdoors data is made freely available under the Open Database License - you are free to copy and use it for any purpose under the terms of that license (summary).
Tips
Hover over a trail to see it highlighted. Helps to see start and end points for an individual trail.
Scroll and zoom the map before printing, and that view will persist into the printed image.
Click a trail for more details and to download it individually.